Tony Award Winner Heather Headley Shares Stories of Her Life and Career
Tony Award Winner Heather Headley Shares Stories of Her Life and Career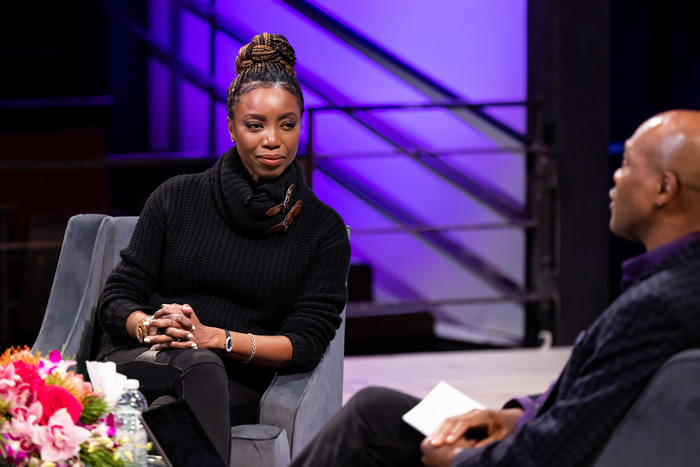 From growing up above a church as a preacher's daughter in Trinidad to winning a Tony at the age of 25, Heather Headley says she has learned her craft in conventional and unconventional spaces. 
"What is training? You can be trained anywhere. Some people say, 'I was trained in the streets.' Some people say, 'I was trained at Julliard.' Some people say, 'I was trained at Northwestern.' What is training? The question is, is the training good or not?" she said on stage at the Ethel M. Barber Theater at Northwestern on February 15 with School of Communication Dean E. Patrick Johnson. "I grew up in the church. In the church. Our house was above the church…Every day, I'd get in there, and take a microphone or a brush, or whatever I could find…I would go in there and close all the windows and sweat, because it was Trinidad, and sing for hours to the empty pews. It was years later that my husband, Brian, said, 'No, you had an audience, it was the angels.'"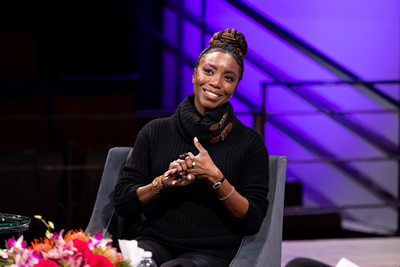 Headley spoke as part of SoC's Dialogue with the Dean series, which seeks to spotlight emerging and established communicators who are advancing the future of their fields, challenging paradigms, and promoting social justice.
In a conversation that covered her rich and varied career, Headley detailed her thoughts on Broadway's efforts at inclusion, moving to Indiana from Trinidad as the child, the power of "no" (and yes), finding her voice in the pandemic, and the surrealism of her lightning-quick jump to Broadway's center stage. A funny, warm, and animated storyteller, she sprinkled the conversation with snippets of song and the wisdom of her mother, which she invoked with a melodic Trinidadian lilt.
Headley came to Northwestern to study music but transferred into the then-School of Speech, where she was mentored by former director of music theatre and current professor emeritus, Dominic Missimi. She left the school in 1996, her junior year, when she won a spot as Audra McDonald's understudy in the original Toronto production of the musical Ragtime, directed by performance studies professor emeritus Frank Galati. She'd leave Ragtime just months later to originate the role of Nala in the Broadway musical The Lion King.
The decision to leave Northwestern, she said, was a difficult one.
"I remember the audition like it's yesterday, and I remember getting the call, and I remember them telling me, 'We want you to leave for Toronto.' And my first instinct was, 'Absolutely not. I am not leaving school.' I had worked so hard to get here," she said. Headley recalled making the phone rounds. "I started calling everybody. (Bienen School of Music professor emeritus) Robert Harris. I called Dominic Missimi. I called every teacher I trusted, and everybody said, 'You have to go. This is what we trained you for,'" she said. "I was the only person saying, 'no.' I was thinking, 'I can't.' Dominic was like, 'As much as I don't want you to leave, this is what you have to do. It's Frank Galati. It's Ragtime. It's the best cast ever assembled' at that time."
Just a few months later after heading to Toronto, she'd be on Broadway in The Lion King, and soon after that, she'd win a Tony Award for Best Actress as the title role in Aida.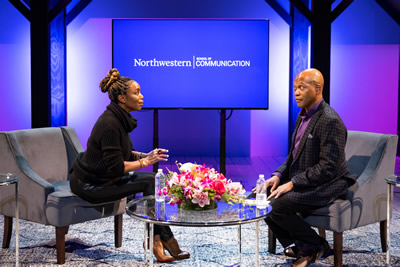 Aida itself was a struggle to bring to the stage. For starters, the set included a huge malfunctioning pyramid.
"That pyramid was a lot of trouble; she was a mess," she said to audience laughter. "I remember having a séance because we needed to cast the demon out of this pyramid. Disney got the best of the engineers, and they created this pyramid, that was supposed to be our lives. It would open and entomb us. It was going to be a stage that had no tracks and run by lasers, so when it worked, it was magnificent because it would just glide across the stage."
She continued: "But when that bad boy broke, she would sit and be like, 'I'm not moving.' And she'd be stuck in all kinds of positions. Opening night, that thing broke. Elton [John] is the audience… We're in the middle of the First Act…. We did the show in chairs on the stage. And it was the best performance ever. That's when Disney said, 'We have something.' It's like The Color Purple. When you can do a show naked, you have something."
A stage accident in previews in Chicago also sent her and her co-star to the emergency room.
"We came to Chicago to start it and had an incredible accident during previews—I've left blood on every stage," she joked. "We were in the tomb, and the tomb was going to raise into the sky and what would happen it would close around a little dot, and that would become a star, and that's the end. I remember I heard…creak, creak, and then I heard, thunk, bam! And I saw Adam (Pascal)'s eyes go bug-eyed, and we fell. It was the first time I had the air taken from me. My husband (former NFL-er and Wildcat player Brian Musso)—because he plays football, he knows about this stuff—he said, 'The air got hit out of you.' And I'm like, 'I'm on Broadway? The air is not supposed to go out of me unless I ask it to go out of me!'"
Aside from bruises, she and her co-star were fine.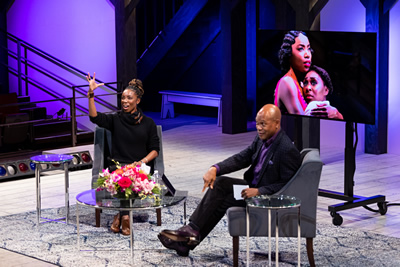 Headley balances a solo singing career with TV and film work, including a recurring role on the NBC series, Chicago Med and, more recently, a starring role in the Netflix series Sweet Magnolias. She played Clara Ward in the Aretha Franklin 2021 biopic, Respect.
Headley took a moment at the end of the discussion to thank the audience and Northwestern.
"Let me say thank you to all of you. Everything leads to everything, and high school led to here. I'm grateful to God for putting me here on this ground, this hallowed ground. To learn, not only about performance, and about being a performer, backstage or on stage, but about being a woman. I met my husband here. This is hallowed ground for my family," she said. "I'm grateful to be a wild Wildcat, and to wear that color (purple) everywhere. Thanks for being here and thanks for your support and encouragement, online or being in the audiences, and thanks to this hallowed ground, for giving me the first taste of what it was going to be. I don't think I could have done as well there if I hadn't been here first. They would not have hired me unless I was properly prepared by Dominic Missimi and Robert Harris. So, I'm grateful for you all, and to this institution we call Northwestern University."