Scholarship and Media Creation
A foundational element of the School of Communication student experience is the application of knowledge gleaned from coursework to one's own creative and scholarly pursuits.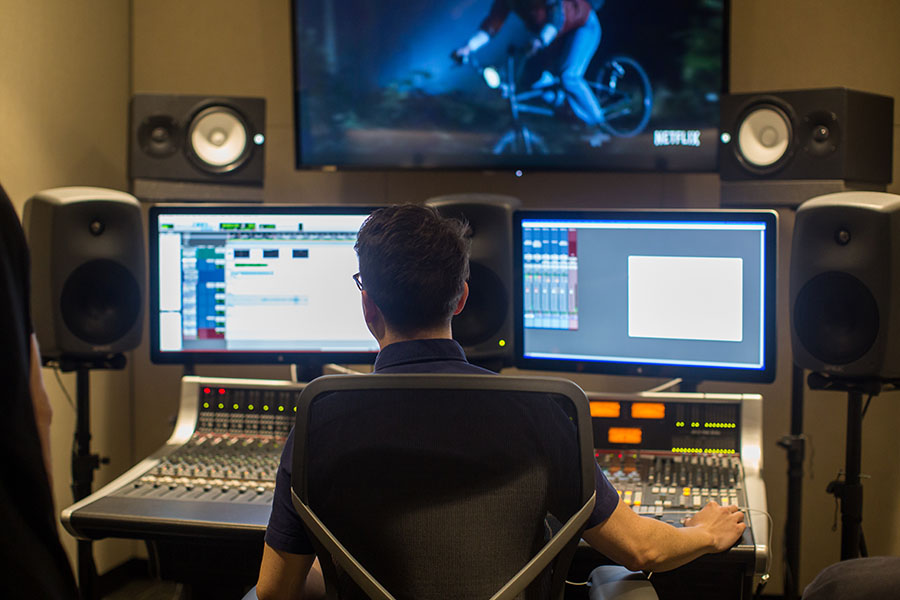 Through both media creation and independent research, SoC students mine and distill their experiences, interests, and professional goals through screenwriting, creative and narrative filmmaking, producing, directing, development, sound arts, media and marketing studies, computational social science, interaction design, social networks, and much more. The hands-on experience is pivotal to the development of a student's voice, research agenda, and desired professional outcome.  
Students involved in these programs and opportunities find community, purpose, professional preparedness, and an enduring spirit of "Serious Play." 
Radio/Television/Film and New Media Creation 
Curriculum in the Department of Radio/Television/Film is designed to give students ample opportunity to explore new media creation through coursework and faculty mentorship. Additionally, grant-funded filmmaking ventures can be pursued through the department's media arts grants, student-run groups, and unique donor-funded opportunities.   
These groups and opportunities are highly collaborative, creatively challenging, but ultimately fulfilling—so much so, they often draw in students from outside of RTVF. 
Scholarly Work in Communication Studies
In the Department of Communication Studies, students may join a research lab that aligns with their professional or academic goals—or just seems a fascinating, worthwhile experience. Undergrads work alongside graduate and doctoral students, post-docs, faculty, and principal investigators to assist in research funded by such institutions as NASA, the National Science Foundation, the John D. and Catherine T. MacArthur Foundation, the Andrew W. Mellon Foundation, the National Institutes of Health, the National Endowment for the Arts, the National Endowment for the Humanities, the Army Research Lab, and Google Research Scholar Program.  
In addition, partnerships at Northwestern provide myriad avenues for research and discovery, including those with the Buffett Institute of Global Affairs, the Kaplan Institute for the Humanities, the Alumnae of Northwestern, the Garage, the Office of Fellowships, and the Office of Undergraduate Research.