Performance
The performing arts at Northwestern demonstrate the dynamic intersection of theatrical theory, history, practice, collaboration, and a spirit of "serious play." Students and faculty innovate together to mount productions within the theatrical canon, from new and emerging artists and underrepresented viewpoints, and from student writers and creators themselves.
Knowledge gained in coursework is applied to the co-curricular performance experience, which includes productions at the Virginia Wadsworth Wirtz Center for Performing Arts, student-run theatre groups, Department of Performance Studies graduate performances, and more. These opportunities together account for dozens of shows, showcases, and staged readings in which students participate.
The co-curricular performance experience is open to all Northwestern undergraduate students who are interested in creating on and off the stage.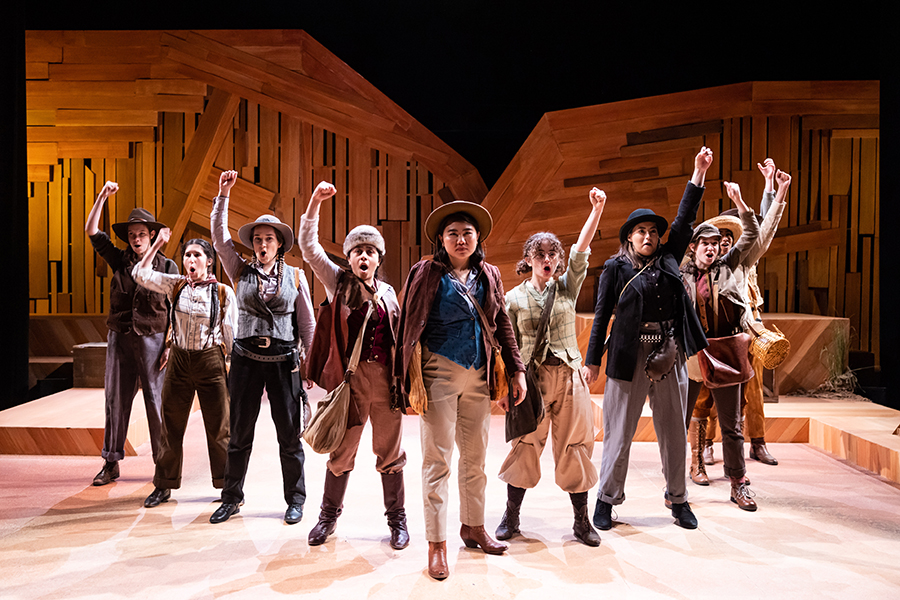 We are firmly committed to offering our audiences a view of the world on our stages that is as enlightening as it is entertaining; a place to come together to laugh, cry and be profoundly moved by some of the greatest writers, composers and choreographers from around the world, created and presented by some of the most exciting artists of tomorrow.
As we seek to entertain at the highest artistic level, we strive to create a place where both our artists and our audiences relish the excitement of exploring differences and discovering similarities, of learning more about others as a means to learning more about ourselves.
Virginia Wadsworth Wirtz Center for the Performing Arts
The Virginia Wadsworth Wirtz Center for the Performing Arts annually mounts more than 40 productions in theatre, music theatre, and dance. Undergraduate actors, managers, and playwrights, alongside graduate designers, directors, and dramaturgs, collaborate on works both classic and contemporary for audiences of all ages.
Productions are staged in the Wirtz's four venues — the 439-seat Ethel M. Barber Theater, the 288-seat Josephine Louis Theater, the 100-seat Hal and Martha Hyer Wallis Theater, the 100-seat Mussetter-Struble Theater, and two additional black box spaces, as well as in the University's 1,000-seat Cahn Auditorium.
The facility includes a 7,800-square-foot scene and paint shop, a 2,500-square-foot costume shop, a lighting shop, wet and dry design shops, computer labs, seminar rooms, and rehearsal spaces.
The center adheres to and reflects the academic mission of the University, the curricular needs of the theatre and performance studies departments, the educational priorities of communication students and exists in service to the campus and the greater community of the Metropolitan Chicago area.