Remembering Frank Galati, Renowned Theatre Artist and Northwestern Alumnus and Professor
The Northwestern University School of Communication community is mourning the loss of Frank Galati (C65, GC67, GC71), Academy Award-nominated and Tony Award-winning writer, director, and beloved emeritus professor in the Department of Performance Studies.
"Frank was a towering figure in both SoC and industry and leaves behind a bounty of profound performance work and a legacy that will live on through those he trained and whose lives he touched," said E. Patrick Johnson, dean of the School of Communication. "He embodied and practiced so much of what we preach in our pedagogy, with his unbounded creativity, collaborative spirit, and playful approach to the rigors of performance. I knew him well as a colleague and treasure my memories of his genius and kindness."
Galati was born in Highland Park, Ill., but grew up in nearby Northbrook where he attended Glenbrook High School. A self-described "theatre geek," he was cherry picked by a drama teacher to attend Northwestern's Cherub program (National High School Institute) in the summer of 1960, an experience that he said was transformative.
Though he wanted to matriculate at Northwestern, he couldn't afford tuition so instead attended Western Illinois University and transferred his sophomore year with the help of a new job and financial aid. He landed in the interpretation department (now performance studies), where he studied under then-department chair Wallace Bacon, Robert Breen (C33. GC37), Charlotte Lee (GC45), and Lilla Heston (C49, GC58, GC65), several of whom he saw perform and teach when he was a Cherub.
"I was having revelation after revelation about story and 'once upon a time' and inventing and plot and character," said Galati in a 2020 interview with the School of Communication. "It really opened my eyes about the potential for dramatic relationships within a story. Not making a story into a play, but letting the story speak for itself."
Galati was further influenced by legendary acting professor Alvina Krause, who directed him in a number of performances, including two summers' worth of summer stock plays.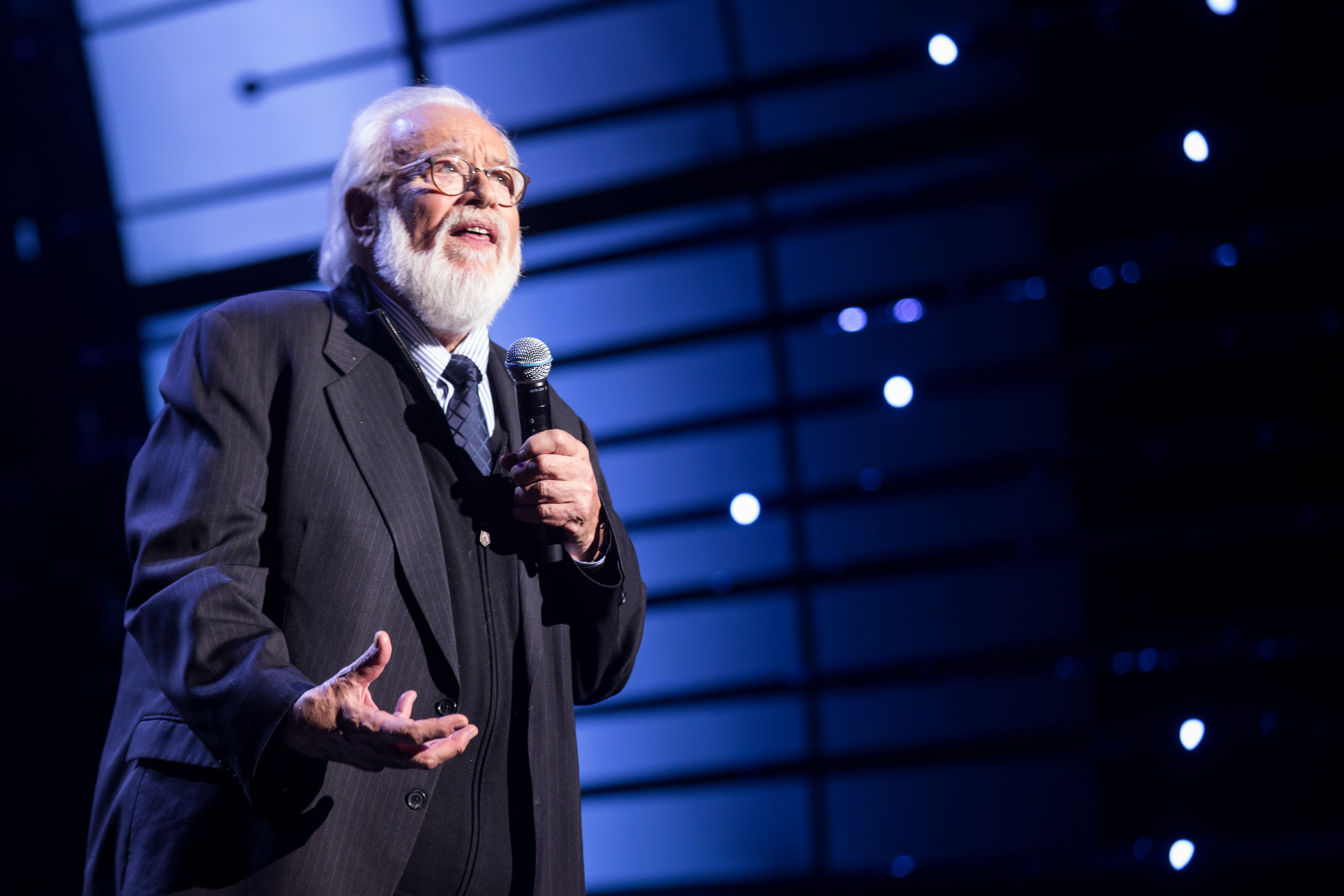 "I've been extremely lucky in my life, and I've had some unique teachers who were really brilliant and inventive, and she was maybe the most remarkable," he said. "She believed that if you wanted to be a good actor—or at least a wide-ranging actor, a substantial actor—you had to study history. You had to study science. You had to be able to know something about astronomy; you had to be able to stand with your body in the contrapposto positions of the figures of the Renaissance…the training was comprehensive, but from Ms. Krause's point of view, it was sort of cosmic."
Galati graduated with a bachelor's degree in 1965 and earned his doctorate in 1971; in 1973 he began teaching at Northwestern; in 1984 the interpretation department was renamed performance studies. He retired and was named emeritus professor in 2006.
"Intellectual rigor was the bottom line," he said. "We on the faculty taught writing, we taught composition, we graded papers. Every single one of the performances that our students gave in class was accompanied by an academic paper…the intellectual rigor manifested in those sorts of efforts."
One of those students was Mary Zimmerman (C82, GC85, GC94), herself a Tony Award-winning director, MacArthur Fellow, and professor of performance studies at Northwestern. Galati once said of Mary: "Think about it—I had Mary Zimmerman in class when she was an undergraduate directing her very first scene. It involved a huge white globe that was glowing from inside. (He laughed.) Even then!"
Throughout and well after his teaching career, Galati helped transform the Chicago theatre scene into the bold, experimental, exciting hub of creativity and partnerships it is today. He was an ensemble member at both Steppenwolf Theatre and Goodman Theatre and mentored countless area actors, writers, and directors—including many Northwestern alumni and faculty.
He was nominated for an Academy Award in 1988 for his adapted screenplay of The Accidental Tourist and won two Tony Awards in 1990 for his adaptation and direction of The Grapes of Wrath, which originated at Steppenwolf. Additional Broadway-directed shows include Ragtime (for which he received a Tony nomination) in 1998 and The Pirate Queen in 2007, as well as dozens of high-profile productions in Chicago and well beyond. After retiring from Northwestern, Galati moved to Sarasota, Fla., where he was an artistic associate at Asolo Repertory Theatre.
Henry Godinez, chair of the Department of Theatre and Goodman Theatre resident artistic associate, shared the following.
"Frank Galati's impact on the Chicago Theatre community is enormous; not just as a writer and director of iconic productions such as The Grapes of Wrath for Steppenwolf and She Always Said, Pablo at Goodman, or as an actor in plays like A Flea in Her Ear at Goodman, but most significantly as a teacher at Northwestern University, where his signature courses in adapting non-dramatic literature for the stage produced students like Mary Zimmerman, who along with Frank, basically created a new genre for the American Theatre landscape. Even beyond those monumental influences, Frank was a mentor to countless artists in the Chicago Theatre community.  A genuinely kind and brilliant man , Frank Galati's soul will continue to ripple throughout our community for a long, long time to come."
Galati's papers are held in the Northwestern University Archives. He was 79 years old when he died on January 2.