SoC Alum and Former Obama Advisor to Address Class of 2021
SoC Alum and Former Obama Advisor to Address Class of 2021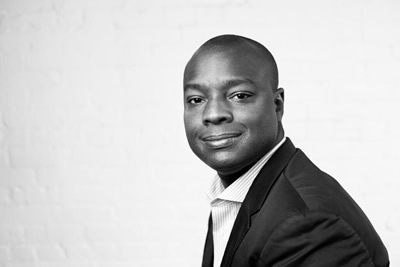 School of Communication Dean E. Patrick Johnson will be welcoming Ebs Burnough (C02) as the School's 2021 Convocation Speaker. Burnough, a filmmaker, writer, producer, and marketing and communications executive, formerly served as the White House's Deputy Social Secretary and former First Lady Michelle Obama's Senior advisor.
Burnough in 2019 made his directorial debut with the documentary The Capote Tapes, which explored the impact of author Truman Capote's unfinished novel, Answered Prayers, through new interviews with friends and enemies and never-before-heard audio archives. The film will be released this summer by Greenwich Entertainment.
"I am sincerely honored to have been asked by Dean Johnson to address the class of 2021," Burnough said. "Returning to Northwestern will be a very special moment for me, and I am truly looking forward to speaking to this year's exceptional graduates at such an important time in our history."
Burnough, who majored in theatre at Northwestern and is now based in London, is president and founder of Ebs Burnough Solutions International (EBSI), which specializes in marketing, communications, and event production. Prior to founding his company, he served as communications director for Aerin, a global lifestyle brand founded by Aerin Lauder.
After joining the Obama Administration, Burnough developed and executed hundreds of events on behalf of President and Mrs. Obama, including the G-20 Global Summit, numerous White House State Dinners, as well as producing "Broadway at the White House," which was televised on PBS. Burnough served as political director to Michelle Obama on the 2008 Presidential Campaign and the director of politics and legislation managing Maryland and the District of Columbia or SEIU Local 1199.
"Ebs is the consummate School of Communication alum," Johnson said. "Accomplished, intellectually curious, multidisciplinary in interests and affiliations, and generous with his time and talents. I am delighted that he will be addressing our 2021 grads, as he will deliver insight and inspiration as they head off toward a dramatically changed professional landscape."
The School of Communication convocation will be held in person on Saturday, June 12 at 2 p.m. in Ryan Field. The event is reserved for graduates and their ticketed guests only.