Professor Noshir Contractor Hosts New Podcast Series "Untangling the Web"
Professor Noshir Contractor Hosts New Podcast Series "Untangling the Web"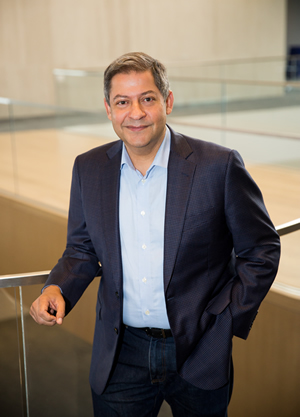 In partnership with the Northwestern University's Science of Networks in Communities (SONIC) Research Group, the Web Science Trust (WST) is launching a new podcast titled "Untangling the Web."
This new series is hosted by web science expert and President-Elect-Select of the International Communications Association (ICA), Noshir Contractor. Noshir is the Jane S. & William J. White Professor of Behavioral Sciences in the McCormick School of Engineering, School of Communication, and Kellogg School of Management. The podcast features interviews with thought leaders in the technology and research space to help listeners, including non-experts, navigate some of the most burning issues in web science: the study of how the web is shaping and influencing our society just as we are shaping and influencing the web, and how the web is influencing the way we live in the midst of a pandemic—or better or for worse.
In each episode Contractor converses with guests with unique perspectives and policy/research experiences about various facets of web science. Guests include some of the founders of the field of web science, including Jim Hendler and Dame Wendy Hall.
Listeners can hear about the challenges—and excitement—that comes with understanding how networks of people and machines interact on a global scale, and why experts fear we might be on the brink of the internet splintering into four distinct "splinternets."
Web science is as human and social as it is technical and data based. This means the behaviors of people in these networks and the properties of these technologies constantly bring fresh difficulties, questions, and innovations. As government, business and academia all seek to harness the power of these historically ungoverned networks, they must do so without falling victim to unintended consequences.
The launch of the "Untangling the Web" podcast includes a starter pack of five episodes promoted the week of Monday, December 14. Each day "Untangling the Web" will showcase a new episode:
"Web Science—Why now more than ever?" with Jim Hendler, Rensselaer Polytechnic Institute (RPI) on December 14
"Symphonic Social Science—and Web Science" with Susan Halford, University of Bristol on December 15
"Web Science—From the Beginning and Beyond" with Dame Wendy Hall, University of Southampton on December 16
"From Social Networking to Social Petworking" with Jen Golbeck, University of Maryland on December 17
"The Bits and Bots of the Web" with Fil Menczer, Indiana University on December 18
New episodes will be released regularly and can be found on the WST website and the podcast homepage; you can also subscribe from major podcast platforms including Spotify, Apple, Google and SoundCloud. Follow our Twitter, Facebook, and LinkedIn for updates.
About SONIC 
The Science of Networks in Communities (SONIC) Research Group  at Northwestern University advances theories and methodologies to better understand and enable networks in a wide range of social settings.
For more information, please visit sonic.northwestern.edu
About the Web Science Trust
The Web Science Trust (WST) is a charity promoting the understanding of the Web, through education and research in the discipline of Web Science. It hosts the WSTNet network of top-class Web Science laboratories from around the world.
For more information, please visit webscience.org