E. Patrick Johnson to be Inducted into the American Academy of Arts and Sciences
E. Patrick Johnson to be Inducted into the American Academy of Arts and Sciences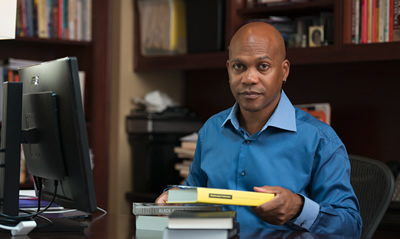 Northwestern School of Communication professor E. Patrick Johnson will be inducted into the American Academy of Arts and Sciences, the prestigious honors society that recognizes exemplary contributions to the pursuit of knowledge, discourse, and advancing the common good. He was among 276 inductees in the 2020 class working across a range of disciplines, eight of whom are from Northwestern.
"I am in a state of shock," says Johnson, the Carlos Montezuma Professor of Performance Studies and African American Studies, who learned of the news on April 23. "As a scholar, you do your work and you hope that you make a dent. But being inducted into the American Academy of Arts and Sciences suggests you've made impacts in ways you're not even aware of."
Johnson is both a scholar and an artist known for his explorations of race, gender, sexuality, and performance. His books include Appropriating Blackness: Performance and the Politics of Authenticity (Duke UP, 2003), which won the Lilla A. Heston Award, the Errol Hill Book Award, and was a finalist for the Hurston/Wright Legacy Award; Sweet Tea: Black Gay Men of the South—An Oral History (University of North Carolina UP, 2008), which was recognized as a Stonewall Book Award Honor Book by the LGBT Round Table of the American Library Association; and Honeypot: Black Southern Women Who Love Women (Duke University Press, 2019) as well as Black. Queer. Southern. Women.: An Oral History (University of North Carolina Press, 2018), both of which are Lambda Literary Award nominees.
"This newest recognition celebrates Professor Johnson's enduring contributions as a theorist, performer, oral historian, and academic mentor, and leader, says Ramón Rivera-Servera, professor and chair of the Department of Performance Studies. "For many of us it also represents an important recognition of the knowledge black queer critique and creative practice advances in making worlds in the most of inhospitable contexts. Professor Johnson has been untiring in his effort to document, theorize, and perform black queer worlds found in the strategies of black folk to advance or challenge protocols of authenticity; in the adventurous and deeply impactful stories of black queer folk who narrate and perform the possible in a Southern landscape so frequently dismissed by majoritarian queer critique; and in the countless of formats he pours the tea and serves the honey—lectures, solo performances, documentary films, published scholarship, and curatorial practice—to generously engage and school his audiences."
The honor comes on the heels of an exciting month for Johnson: his latest book Honeypot was nominated for a Lambda Literary Award, and the documentary Making Sweet Tea, which he produced alongside husband Stephen Lewis, has been winning awards on the festival circuit, including the Audience Choice Award for Best Documentary Feature at the Kansas City FilmFest International and the Judges' Choice Documentary Award at the Longleaf Film Festival.
But the American Academy of Arts and Sciences news was wholly unexpected for Johnson, who is now in a league with such former inductees as Barack and Michelle Obama, Ta-Nehisi Coates, Tom Hanks, and Emmylou Harris, as well as 2020 inductees including filmmaker Richard Linklater, author Ann Patchett, former Attorney General Eric L. Holder, Jr., and Native American scholar and artist Edgar Heap of Birds. Fellow Northwestern inductees include Edith Chen, Yonggang Huang, Teri W. Odom, Mary E. Pattillo, Indira M. Raman, James P. Spillane and Teresa K. Woodruff.
"All of the living members get to vote on every nominee, even if it's outside of their field of expertise," Johnson says. "That's why it's so significant – and I would have potentially had Barack Obama weighing in if I'm worthy!"
The academy was founded in 1780 by John Adams, John Hancock, and other early scholar-patriots to honor excellence among leaders who work "to cultivate every art and science which may tend to advance the interest, honor, dignity, and happiness of a free, independent, and virtuous people." It has inducted more than 13,500 lifetime members since its establishment.
"The members of the class of 2020 have excelled in laboratories and lecture halls, they have amazed on concert stages and in surgical suites, and they have led in board rooms and courtrooms," said academy president David W. Oxtoby in a statement. "With today's election announcement, these new members are united by a place in history and by an opportunity to shape the future through the Academy's work to advance the public good."
New members, including Johnson, will be honored at a weekend celebration in Boston in October.