Thomas F. DeFrantz
Professor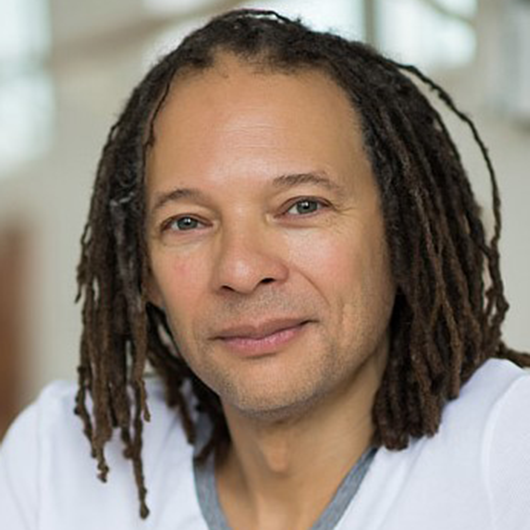 Thomas F. DeFrantz directs SLIPPAGE: Performance|Culture|Technology; the group explores emerging technology in live performance applications. He believes in our shared capacity to do better and engage creative spirit for a collective good that is anti-racist, proto-feminist, and queer affirming.
Creative Projects include Queer Theory! An Academic Travesty commissioned by the Theater Offensive of Boston and the Flynn Center for the Arts; fastDANCEpast, created for the Detroit Institute for the Arts; reVERSE-gesture-reVIEW commissioned by the Nasher Museum in response to the work of Kara Walker, January, 2017.
Books: Routledge Companion to African American Theater and Performance (with Kathy Perkins, Sandra Richards, and Renee Alexander Craft, 2018), Choreography and Corporeality: Relay in Motion (with Philipa Rothfield, 2016), Black Performance Theory: An Anthology of Critical Readings (with Anita Gonzalez, 2014), Dancing Many Drums: Excavations in African American Dance (2002), and Dancing Revelations: Alvin Ailey's Embodiment of African American Culture (2004).
Convenes the Black Performance Theory working group as well as the Collegium for African Diaspora Dance, a growing consortium of 325 researchers committed to exploring Black dance practices in writing.
Recent teaching: University of the Arts Mobile MFA in Dance; ImPulsTanz; New Waves Institute; faculty at Hampshire College, Stanford, Yale, MIT, NYU, University of Nice. Has chaired Program in Women's and Gender Studies at MIT; the concentration in Physical Imagination at MIT; the Department of African and African American Studies at Duke; and served as President of the Society of Dance History Scholars.
DeFrantz acted as a consultant for the Smithsonian Museum of African American Life and Culture, contributing concept and a voice-over for a permanent installation on Black Social Dance that opened with the museum in 2016. Visit the website at slippage.org.
Courses
Performance and Technology
Black Dance