Melissa Foster
Professor of Instruction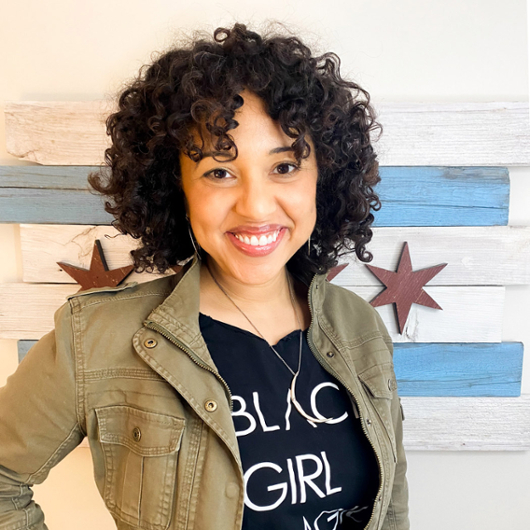 Melissa Foster is an educator, voice specialist, theatre artist, researcher, and speaker. As a voice teacher, she specializes in musical theatre, pop styles, the history and performance of hip-hop, and opera/musical theatre crossover. Her scholarly book project, The Scenario: Hip-Hop History and Performance Techniques for Musical Theatre, examines the pathway into hip-hop performance with historical and cultural awareness, vocal health, and authenticity. She is also working on a project titled "The Message," which discusses hip-hop's history and its profound influence on contemporary pop culture.
Foster is on faculty for The CCM Vocal Pedagogy Institute with a focus on "Teaching Pop Styles." She is the rap and R&B coach for Rock the Audition, as well as a resident vocal consultant for the Lyric Opera of Chicago. She has also been guest faculty for Broadway Breakthru, IHSTA, Stagelighter, and she serves as artist in residence for the ArtsLink Foundation.
Masterclasses/invited talks have occurred at Temple University, Samford University, University of Notre Dame, The National Association of Teachers of Singing National Conference, Shenandoah University, Carthage College, North Central College, and Palo Alto Voice Institute. Additionally, she taught a masterclass on vocal technique alongside Renee Fleming at the Lyric Opera of Chicago. Internationally, Foster is a Visiting Artist and Master Technician for a coalition of institutions and universities in Xi'an, China, Guangzhou, China, and Hong Kong.
At Northwestern, Foster simultaneously serves as one of five Faculty in Residence (a Provost Initiative) for the Office of Residential Academic Affairs. Foster also represents SoC in two critical initiatives: first, serving on the Community Safety Advisory Board at Northwestern, with the mission of reimagining and creating an equitable approach to campus safety; and second, as a University Hearing and Sanctioning Panelist for the Office of Community Standards. Melissa is a proud member of Alpha Kappa Alpha Sorority Inc.
Education
MME, Dual Degree: Voice/Opera, Music Education, Northwestern University
CAS, Music Theatre, Northwestern University
BM, Voice and Opera, Northwestern University
Courses
Theatre 350: Intermediate Voice
Theatre 351: Advanced Voice
Theatre 350: Pop Rock Musicals: Hair to the Present