Larissa Buchholz
Assistant Professor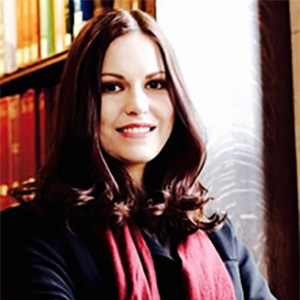 Larissa Buchholz is an award-winning sociologist who works at the intersection of the sociology of art and culture, global and transnational sociology, as well as sociological theory. She is also interested in the sociology of intellectuals/knowledge and markets. Holding four graduate degrees (three Master's and a Ph.D. in sociology from Columbia University), Buchholz is currently an Assistant Professor of Communication Studies and Sociology (by courtesy) at Northwestern University, a faculty fellow at the Critical Realism Network Yale University, and an editorial board member of Sociological Theory. Prior to that, she was a Junior Fellow at the Harvard Society of Fellows, the first woman elected from her discipline.
Buchholz's recently published book, The Global Rules of Art (Princeton University Press, 2022), examines the historical emergence of a global cultural field and how artists from formerly colonized or "peripheral" countries reach worldwide recognition after centuries of exclusion and discrimination. She has additionally published over 20 academic pieces (including peer-reviewed articles, book chapters, and encyclopedia entries), which have been cited by scholars on six continents across subfields in the social sciences and humanities. Her ongoing book project, Kaleidoscopic Tastes in a Global Cultural Market (working title), expands her interest in valuation by turning from the perspective of cultural mediation to art consumption. Drawing from several months of fieldwork in the Middle East, China and India, the project examines the cross-border formation of audiences and taste cultures through the lens of global art collectors.
Buchholz gave keynotes at Cambridge University, UK (2016), the University of Pennsylvania, USA (2018), the Max Planck Institute Cologne, Germany (2018), and at Uppsala University, Sweden (2022). Her work has garnered multiple awards, including a Fulbright Award, the Alex Inkeles Prize and Robert K. Merton Award at Columbia University, the Junior Theorist Prize of the International Sociological Association, the Junior Theorist Award of the American Sociological Association, Harvard University's William F. Milton Fund award as well as Columbia University's outstanding recent Alumni Award. In addition to her academic work, Buchholz has engaged in consulting for art organizations across several countries.  
For more information, see her personal site at larissabuchholz.soc.northwestern.edu
Education
Junior Fellow, Society of Fellows, Harvard University
PhD, Sociology, Columbia University

M.Phil. Sociology, Columbia University

M.A. Stony Brook University

Magistra Artium, Cultural Sciences, Leuphana University, Germany
Recent Awards and Honors
2022 Faculty Honor Roll, 

Northwestern University

2020 Junior Thyssen Fellow

, Institute for Advanced Study, Central European University

2017 Junior Theorist Award, American Sociological Association
2016 Junior Theorist Prize, International Sociological Association
2016 Outstanding Recent Alumni Award, Columbia University
2014 William F. Milton Fund Award, Harvard University
2013 Outstanding Dissertation Award, American Sociological Association
2013 Robert K. Merton Award for Best Dissertation, Department of Sociology, Columbia University
Courses
Global Culture? Theoretical and Empirical Perspectives
Creativity in Context

Globalization of Culture: Media, Artefacts, Identities

The Construction of Value in Cultural Markets

Media and Cultural Production Research Practicum

Cultural Nonprofit Organizations