Kent R. Brooks
(he/him)
Assistant Professor of Instruction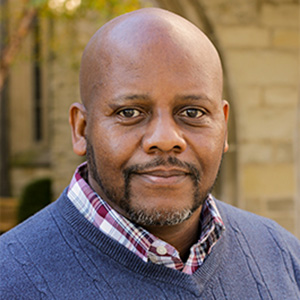 Kent R. Brooks (he/his/him) has dual roles at Northwestern University as the director of Religious and Spiritual Life, where he works within a team dedicated to creating an inclusive space supporting the quest for meaning and purpose, and as an assistant professor of instruction in the Department of Performance Studies, where his work focuses on the language, execution, and social/historical implications of Black Gospel Music.
A seasoned church music director, worship leader, and educator, Kent is a BMI-affiliated composer who was twice the recipient of the Waljo Gospel Music Award. He was commissioned to compose and perform Heal the Land, the theme for the Raleigh-Durham area's first observance of the Black Churches Week of Prayer for the Healing of AIDS. Another important commission had Kent assemble a 200-voice choir to perform, Let Your Dreams Take Flight, the theme for the Special Olympics World Games. His composition, Fanfare for Celina, opened the inaugural International Igor Stravinsky Festival at The University of North Carolina at Chapel Hill, and his string quintet, A Prelude for Spirituals, debuted the same year. For four seasons, Kent performed with the Greensboro (North Carolina) Symphony Orchestra as chorus master and arranger for its annual community gospel concert. In his final year, the GSO performed Kent's original gospel ballad, You Are My Everything. This same piece was presented at the new music seminar of the 2009 Gospel Music Workshop of America (GMWA) in Cincinnati, Ohio. In 2013, his setting of Psalm 117 was recorded by mass choir of the GMWA.
Kent debuted as a music director for the Springfield (Ohio) Arts Council for its 2013 summer presentation of Footloose: The Musical. To mark the 150th anniversary of the Civil War, he arranged an old battle song, Hoist Up The Flag, for a special concert performed by the Springfield Symphony Chorale and Orchestra.
Before coming to Northwestern, Kent was the director of music and worship for High Street United Methodist Church in Springfield, Ohio, and he taught voice, conducted the Imani Gospel Choir, and served as chapel organist at Wittenberg University. He transcribes and arranges for The Gospel Music Workshop of America, The National Convention of Gospel Choirs and Choruses and the Hampton University Church Music Conference. He is a former member of the Springfield Symphony Chorale, the Dayton Chapter of the GMWA, and he served on the board of the directors for the Springfield Symphony Orchestra. He has worked with many notables in the gospel, jazz, and classical fields, and his work as a producer, composer and instrumentalist can be heard on various local, regional, and national recordings.
Kent is a graduate of the University of North Carolina at Chapel Hill, where he studied music composition and music theory with Drs. Ingrid Arauco and Allen Anderson. He also studied classical piano, jazz piano, and voice with Dr. Linda Holtzer, Dr. Scott Warner, and Professor Stafford Wing, respectively.
Education
BA, University of North Carolina Chapel Hill
Selected Awards and Accomplishments
"Emmanuel" (an original piece) was selected for presentation at the 2023 Gospel Music Workshop of America in Greensboro, North Carolina
Editor for the 2023 edition of the "Gospel Music Workshop of America Songbook"
Recipient of the Karl Rosengren Faculty Award, sponsored by the Fletcher Family Fund and given through Northwestern University's Office of Undergraduate Research
University of Virginia; presented a paper and performed for the symposium, "Remembrance and Memorial: Hearing the Impact of the HIV/AIDS Crisis on the Black Gospel Community"
Yale University; served on multiple discussion panels and performed for "In The Sanctuary: An Inaugural Symposium on Music and the Black Church"
Interviewed for inclusion in Yale University's Oral History of American Music
Editor for the 2022 edition of the "Gospel Music Workshop of America Songbook"
"Tabernacle" (an original piece) was selected for presentation at the 2022 Gospel Music Workshop of America in Atlanta, Georgia
Courses
Performance Culture and Communication
Class Voice for Musical Theatre
Black Gospel Music in America
Rebellious Women of Gospel Music