David Catlin
(he/him)
Associate Professor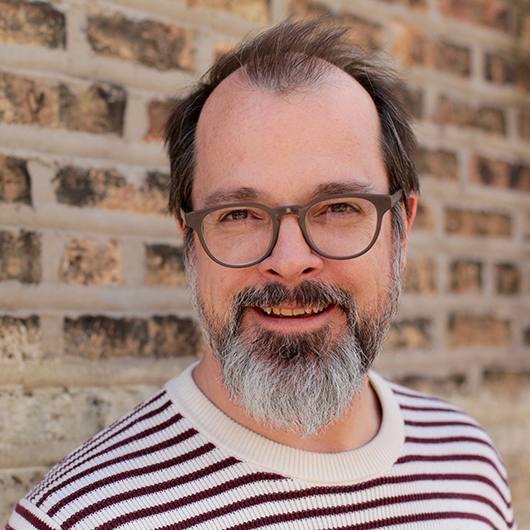 David Catlin is a founding ensemble member of the Lookingglass Theatre Company, the recipient of the 2011 Tony Award for Outstanding Regional Theatre and the 2016 MacArthur Foundation Award for Creative & Effective Institutions. While still a senior in Northwestern's theatre department, David and seven fellow students decided to create a new theatre company that sought "to redefine the limits of theatrical experience and to make theatre exhilarating, inspirational, and accessible to all." Almost thrity-five years later, Lookingglass has created and produced over seventy world premieres—work that is collaborative, inventive, and transformational. David served as the company's first co-artistic director (with David Kersnar) and more recently served as artistic director (2003-2010). Other leadership positions with Lookingglass include managing director, interim executive director, and director of artistic development.
Catlin is a theatre-maker who acts, writes, directs, and teaches. Like the work created at Lookingglass, his theatre is ensemble-based, story-centric, and utilizes physical, visual, and aural storytelling in collaboration with a traditional emphasis on character and text. His work has been produced in Chicago, New York City, Los Angeles, Tucson, Baltimore, Miami, Denver, Philadelphia, Atlanta, Syracuse, Louisville, and Princeton, New Jersey.
Catlin has appeared in, directed, or written & directed in thirty-eight productions for Lookingglass. Writing and directing credits include Lookingglass Alice, Mary Shelley's Frankenstein, and Moby Dick (Joseph Jefferson Award Best Production). Other regional directing credits include Midsummer Night's Dream (Alliance Theatre, Atlanta) and Mr Dickens' Hat (Northlight).
Catlin helped found Dark Harbor Stories, a film development company. He was a producer for (and appeared in) the independent film Humanoid. David can also be seen in Since You've Been Gone (Miramax/Film Colony/Lookingglass).
Education
BS, Theatre, Northwestern University
Awards, Citations, and Nominations
Tony Award (NYC) 2011 Outstanding Regional Theatre, Lookingglass Theatre Company
Lookingglass Spirit Award 2010
SALT Award (Syracuse) 2011 Play of the Year – Lookingglass Alice
Suzi Award (Atlanta) – Play & Direction (nominations) – Lookingglass Alice
Joseph Jefferson (Chicago) – New Work/Adaptation – The Idiot
Joseph Jefferson – Best Ensemble – Arabian Nights
Joseph Jefferson – Best Ensemble – The Jungle
Joseph Jefferson – Direction – West
Joseph Jefferson – Best Ensemble – The Odyssey
Courses
Acting I: Principles of Characterization
Acting II: Analysis and Performance
Senior Topics in Acting: Actor as Collaborative Creator