Bharath Chandrasekaran
(He/him)
Ralph and Jean Sundin Endowed Professor; Department Chair, Communication Sciences and Disorders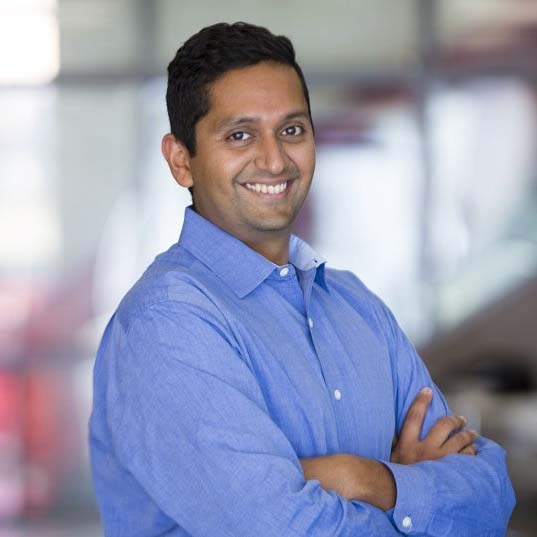 Dr. Bharath Chandrasekaran was a Professor and Vice Chair of Research in the Department of Communication Sciences and Disorders at The University of Pittsburgh. He earned his Ph.D. in Integrative Neuroscience from Purdue University in 2008 and completed a postdoctoral fellowship at Northwestern University before joining the faculty at The University of Texas at Austin in 2010. Beginning Fall 2023, Dr. Chandrasekaran is honored to take on a new role as the Ralph and Jean Sundin Endowed Professor in Communication Sciences and Disorders and Chair of the Roxelyn and Richard Pepper Department of Communication Sciences and Disorders.
Dr. Chandrasekaran applies a systems neuroscience approach to investigate the computations, maturational constraints, and plasticity underlying auditory signals like speech and music. Over the past two decades, his lab has employed cutting-edge behavioral, multimodal neuroimaging and modeling-based approaches to gain computational, algorithmic, and implementation-level understanding of how sounds are represented and mapped to behaviorally-relevant constructs in the human brain. His research is highly collaborative and interdisciplinary, drawing from fields such as communication sciences and disorders, neuroscience, linguistics, psychology, engineering, and otolaryngology. Dr. Chandrasekaran's interdisciplinary program of research is currently supported by the National Institutes of Health, National Science Foundation, and PNC Charitable Foundation.
In his administrative role (2018-22) as the Vice-Chair for Research in the Department of Communication Science and Disorders, Dr. Chandrasekaran has overseen a substantial expansion in research operations and collaborations. The department has received over 20 federally funded awards in 2023, compared to 5 in 2018, and over 85% of research faculty now receive some form of federal research support compared to just 20% in 2018. Dr. Chandrasekaran has spearheaded the establishment of multiple investigator-led shared lab initiatives, breaking disciplinary silos in favor of collaborative, interdisciplinary sciences.
Dr. Chandrasekaran has been recognized for his outstanding contributions to the field of communication sciences and disorders, having been awarded several prestigious awards, including the University of Texas System Regents' Outstanding Teaching Award in 2014, the Psychonomics Early Career Award in 2016, the Society for Neurobiology of Language Early Career Award in 2018, and the Fellowship of the American Speech-Language and Hearing Association in 2022. He has served as the Editor-in-Chief of the Journal of Speech, Language, and Hearing Research from 2018 to 2021 and currently serves as the Chair of the Language and Communication Study Section of the National Institutes of Health.
Education
PhD, Integrative Neuroscience, Purdue University