Aymar Jean Christian
(he/they)
Associate Professor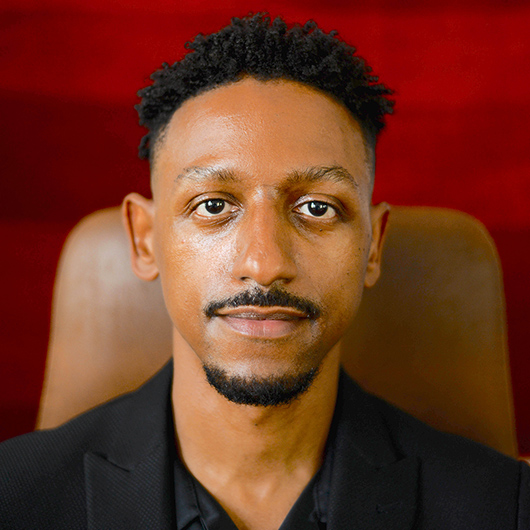 Aymar Jèan "AJ" Christian is an associate professor of communication studies at Northwestern University and director of the Media and Data Equity (MADE) Lab. His research focuses on the political economy of legacy and new media, cultural studies and community-based research. He published his first book, Open TV: Innovation Beyond Hollywood and the Rise of Web Television, on New York University Press, and is writing his second book, Reparative Media: Cultivating Stories and Platforms to Heal our Culture, which explores how to repair systemic harm and discrimination in media, technology and research. His scholarship has been published in numerous academic journals, including the International Journal of Communication, Television & New Media, Social Media & Society, Journal of Cinema and Media Studies, among other journals and edited collections.
Dr. Christian engages industry and community-based organizations as part of his research. He has given lectures for and collaborated with the Sundance Institute, Vimeo, the SAG-AFTRA Foundation, Black Public Media, and more. He has juried television and video for the Peabody Awards, Gotham Awards, and Tribeca Film Festival, among others. His work has been recognized by the MacArthur Foundation & Field Foundation (Leaders for a New Chicago, 2019), Variety (Top 50 Entertainment Instructor 2020 & 2021), Filmmaker (25 New Faces of Indie Film, 2018) NewCity (Film Leader 2017 & Film Hall of Fame 2020), Chicago magazine (New Power List, 2021) and Seed&Spark (Filmmaker to Watch 2018).
Dr. Christian co-founded OTV | Open Television, a platform for intersectional television. OTV programs have received recognition from the Television Academy (Emmy Awards), Webby Awards, Streamy Awards, Gotham Awards, among others. Its programming partners have included the Museum of Contemporary Art Chicago, the Sundance Institute, and the city of Chicago, along with numerous galleries, community organizations, and universities. Artists supported by OTV have received offers from leading studios and distributors, including HBO, CBS and Hulu. From 2015-2020 while leading OTV's transition from experiment to independent non-profit, Dr. Christian and Executive Director Elijah McKinnon raised over $1 million in multi-year support to sustain its operations. Building on the success of OTV, he co-founded OTV Studio with Stephanie Jeter and Lilly Wachowski, an incubator for intersectional film & television.
From 2008 to 2014 he ran the blog Televisual focused on the evolution of TV and internet.
He received his PhD from the University of Pennsylvania.
Education
PhD, Communication, University of Pennsylvania
MA, Communication, University of Pennsylvania
BA, American Culture, University of Michigan
Awards and Fellowships
Faculty Fellow, Peabody Media Center, 2017-2019
Kaplan Institute for the Humanities Fellowship, Northwestern University, 2015-2016
Searle Fellowship in Teaching & Learning, Northwestern University, 2014-2015
Ford Foundation Dissertation Fellowship, honorable mention, 2012
Mellon Graduate Research Fellowship, 2009-2010
Research Fellowship, The Annenberg School for Communication, 2010-2011
Fontaine Society Fellowship, University of Pennsylvania, 2007-2012
Honors
Peabody Awards / Jury, 2021-
Chicago magazine / New Power List, 2021
Variety / Top 50 Entertainment Instructor 2020 & 2021
Pop Culture Collaborative / Fellow, 2019-2020
NewCity / Film Leader 2017 & Film Hall of Fame 2020
MacArthur Foundation & Field Foundation / Leaders for a New Chicago, 2019
Filmmaker / 25 New Faces of Indie Film, 2018
Seed&Spark / Filmmaker to Watch 2018
Courses
Creative & Participatory Research Methods (PhD)
Intersectionality & New Media (PhD)
Digital Television (Masters)
Contemporary Television (Undergraduate)
Power In Entertainment (Undergraduate)