Emily Branham (C02)'s special two-part Dialogue with the Dean
Emily Branham (C02) shares debut documentary during special Dialogue with the Dean
"I think all who are aligned with the Northwestern School of Communication recognize how powerful art is as a tool for building empathy, understanding, and a bridge between human beings. I have a friend who says, 'Nobody cries over a policy paper,' but they do feel something when they go on a journey with another human being. There's so much power in positive representation and telling nuanced stories about family, acceptance, and love." -Emily Branham (C02)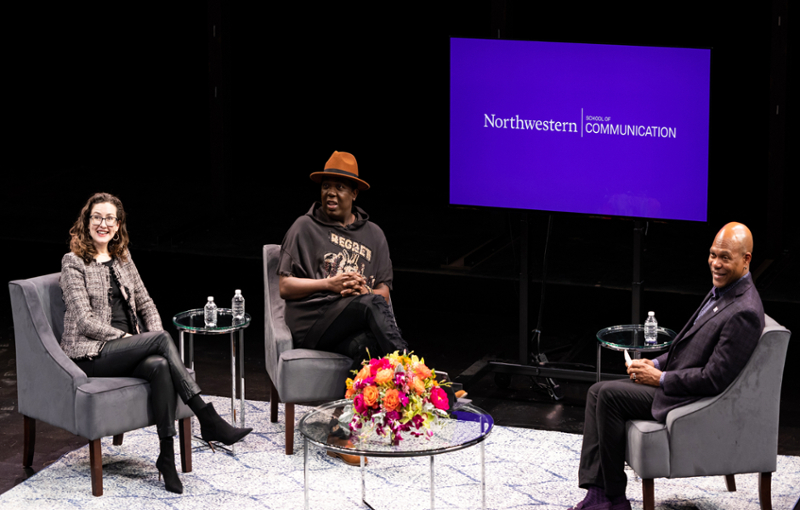 Emily Branham (C02), Marshall Ngwa, and Dean E. Patrick Johnson.
Dean E. Patrick Johnson hosted a special two-part, two-guest Dialogue with the Dean, Thursday, March 9, spotlighting Emily Branham (C02) and Marshall Ngwa, the subject of her debut feature documentary, Being BeBe. The film chronicles the life of Ngwa, also known by his drag persona, BeBe Zahara Benet, as he rose to fame as a performer, activist, and inaugural winner of RuPaul's Drag Race.
The evening provided attendees with a behind-the-scenes look at the making of not only the film but a larger-than-life career.
Ngwa shared tidbits from RuPaul's Drag Race: "What you see is what happens. The drama is the drama. It is what it is." He touched on his family's feelings about his career: "When I grew up, I never had issues at home. My mom, my dad, my siblings never made me feel any different. I consider myself lucky." He even touched on the responsibility that his career has given him: "The platform is a privilege. If you look at [my] direct messages, people relate on so many levels, and maybe something I have said, or how I carry myself, gives them hope. Many say it's because you did x, y, or z that I'm still alive today."
Branham met Ngwa in 2006 through her younger sister who danced backup for Benet in Minneapolis. "As soon as my sister told me about [BeBe], something perked up in me," Branham said. "[I thought], this wants to be a documentary, 'promising, amateur drag performer in Minneapolis going to their first national drag competition.'" But when she flew home to see Benet perform, Branham was blown away and the rest was history.
Their relationship grew and, even though Ngwa didn't win the "Miss Gay USofA" pageant in Dallas that year, Branham knew Benet's story was just beginning.
Shot over 15 years, the documentary shared many highs and lows in Ngwa's career as Benet. When asked by an audience member how she decided what to include in the film, Branham discussed the "ethical responsibility and the inherent power dynamic of being entrusted to tell somebody's story."
"I did retain final edit. That was important to me," Branham said. "But I would never feel comfortable putting something out into the world without [Ngwa's] blessing."
She continued: "There were things that, at earlier points in our process, [Ngwa] asked me not to include, but over time it became clear that they weren't as sensitive. So, they got included."
Branham shared with Dean Johnson that the most memorable footage to capture, besides Ngwa performing for his whole family for the first time, was the acting class sequence. "As somebody who came into Northwestern as a theatre major, my heart is in theatre and my origins are there. So, it was a beautiful blending of different things coming together for me." 
"There is no way you can tell the story that she told without trust," Ngwa said. "People see me do what I do, but I'm a very private person. I had to trust Emily. She's been a part of a lot of my life because of the relationship we've built."
Now that documentary is done, Branham is looking forward to the next projects. "I'm working on a podcast about how creative people build their lives around their art. I was so pulled by [Ngwa's] story, and it has been such a gift in my life, so I'm going to be very deliberate about my next project," Branham said. "I'm staying open and trying to follow through with what we've made to make sure it reaches the audiences we're trying to reach."
While Being BeBe is currently available to stream, Branham and Ngwa have also been traveling, sharing the film with audiences.
"There's a lot of entry points for conversation and relatability. I'm hoping that people can use the film to create experiences for their communities," Branham said. "This has been such a treat to come home to Northwestern and have this incredible event. We want it to be used as a tool to empower and inspire."
Ngwa will be going on tour this summer with his show NUBIA: A Brave New World Tour, three years after it first launched in 2020. The show is packed with over-the-top performances and surprises. Ngwa as Benet will be joined by fellow drag performers and RuPaul's Drag Race contestants: Shea Couleé (All Stars 5 winner), Yvie Oddly (season 11 champion), Ra'Jah O'Hara (Canada's Drag Race: Canada vs. the World winner), Kennedy Davenport (All Stars 3 finalist), and Lala Ri (season 13 Miss Congeniality).
Dialogue with the Dean is a conversation series featuring emerging and established communicators who are advancing the futures of their fields, challenging paradigms, and promoting social justice. It highlights a different genre of communication every year. This year we are highlighting comedy and media arts. The last Dialogue with the Dean of the academic year will take place in May and feature actress and comedian Ana Gasteyer (C89).