The Year Between screening and Q&A with Alex Heller(C15)
The Year Between screening and Q&A with Alex Heller(C15)
"It is ironic to be back here where so much of this happened, sharing this film with you," said writer, director, Alex Heller (C15) in a quiet moment following a screening of her film The Year Between.  "I am grateful."
Billed as a comedy and drama, The Year Between features a seasoned cast of actors, including, J. Smith-Cameron, Emily Robinson, Wyatt Oleff, and Steve Buscemi with Heller starring in the pivotal lead role as Clemence Miller. The film, Heller's first feature, has racked up awards since its premiere last summer, including the Audience Choice Award for Best Feature at the Chicago International Film Festival a few weeks ago Heller brought the film to audiences at the Block Museum of Art on Thursday, October 27 as part of programming sponsored by Pritzker Pucker Studio Lab for the Promotion of Mental Health via Cinematic Arts (PPSL).
The story follows college student Clemence Miller as she and her family struggle through her recent diagnosis of bipolar disorder and her subsequent move back home from college. They must then re-learn to cohabitate with each other, all while grappling with the individual life stressors.
An Official Selection of the Tribeca 2022 US Narrative Competition and the Nashville 2022 New Directors Competition, The Year Between was as moving as it was fun. And it was well received by the audience with Heller, David E. Tolchinsky, founder, and director of PPSL, and Meghan Finn, psychological consultant for PPSL, taking the stage to begin the Q&A portion of the evening to two rounds of applause.
Tolchinsky asked Heller to take the audience through the process of making the film, and she began by dissecting its autobiographical nature and how that was a difficult thing with which to grapple.
"I shared a lot of my personal life in the movie," Heller explained. "I actually wrote the first draft of this film in my screenwriting class right here my senior year while I was riding downtown to meet with my psychiatrist."
Even still she worked on her first few drafts alone, only sharing with her professor and trusted friends because of the nature of her story.
"Of course, not everything in the movie happened to me. I have actually been working on my mental health since (age) 14 and have met a lot of other people struggling with similar issues," she said. "So, I incorporated some of their experiences in the film too."
Incorporating other's stories allowed her to show the broad spectrum of what mental illness—and addressing it—looks like.
The road to getting the film made was long with a lot of upsets along the way.
"I signed options to the film for three years and they took me off as the director," Heller said. "I thought I would never see it again."
She used each lab and fellowship application process to continue developing her script and the story, evolving and solidifying it with each rewrite until she was accepted as a 2020 Sundance Institute Feature Film Program Fellow.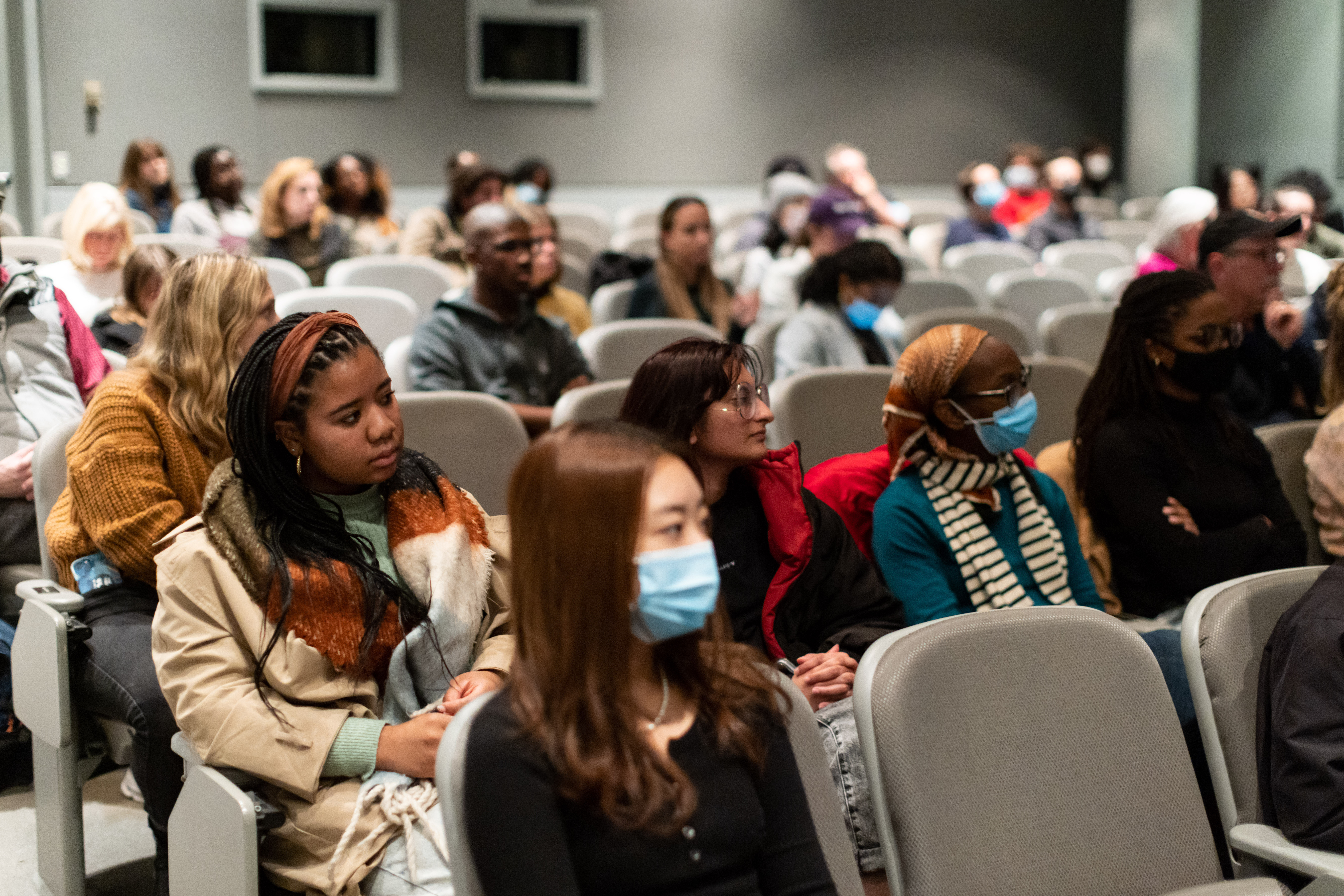 She shot the film close to home in the Chicago suburbs, which also posed an interesting challenge.
"It was kind of ironic to shoot about a hard time in my life while being in the place where a bad thing has happened. Like that was my real-life high school soccer field that we shot on," Heller said. "Because this film was semi-autobiographical, there were a lot of vicarious traumas that I experienced but there was something deeply cathartic about making it too."
Danielle Llevada, a current PPSL fellow and School of Communication student, found Heller's film hilarious and touching and her take on the process important.
"I think the thing that resonated the most for me [was] when Alex talked about how writing from an honest place experientially can be terrifying but also boundless," Llevada said.
Heller stressed the importance of being aware of how portrayals of other's stories might affect them and writing accordingly.
"If I needed to tell a certain aspect of the story, I would create a fictional person but include everything I needed about [the real person] that I needed to," Heller said. "That was the simplest way to incorporate that story into the film. But I also talked to the people I needed to talk to, like my parents. Those people in the film are pretty much just like my parents."
The film, though, is not a PSA, Heller said.
"This is one look at one way of how to treat a mental illness," she said. "Every person needs to take a special approach to their take care of mental health. This was just the journey for Clemence."
The last question of the night was about strategies to stay focused and positive while waiting for people to greenlight your work. Heller encouraged the crowd to remember that no one person is the gatekeeper of everything that goes on the screen and that they shouldn't let a "no" about an autobiographical film devalue their lived experiences. Her advice was to keep creating even while you wait.
"I shot one thing every year while I was applying to fellowships and labs," Heller said. "That way by the time you get in front of someone who can help you, you can be the most you and be incredibly unique. You have developed your own voice. So, keep creating because it will keep you going on this journey."