New Faculty Film Explores Horrors of Pandemic-Era Isolation
New Faculty Film Explores Horrors of Pandemic-Era Isolation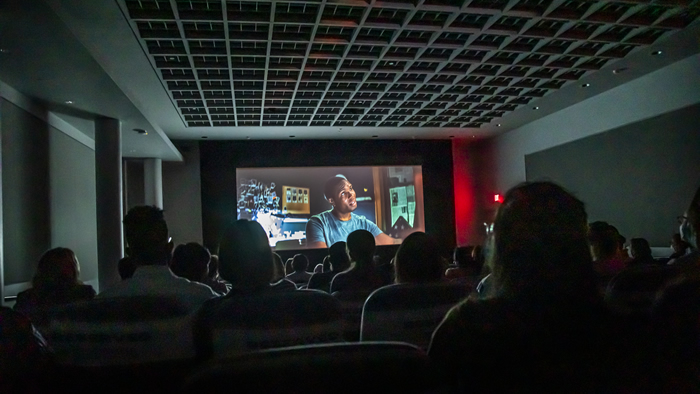 How can a horror movie help us feel less lonely while navigating out of pandemic life?
This is a question that came up again and again during Night's End, Brett Neveu's (associate professor of instruction in the Department of Radio/Television/Film) original feature film, directed by Jennifer Reeder (Knives and Skin and A Million Miles Away). The film was screened March 31 at the Block Cinema on Northwestern's Evanston Campus, followed by a talkback with some of the film's artists and moderated by Professor David Tolchinsky. The event was sponsored by the Pritzker Pucker Studio Lab for the Promotion of Mental Health via Cinematic Arts and the MFA in Writing for Screen and Stage.
"During the pandemic, I became used to having beers on Zoom with my best friend—I wanted to tell a story of the strange connection and isolation we all felt," Neveu said about the film's concept. "I was bored in the pandemic, and I wanted to make this story with my daughter about a man who lives alone in his apartment and finds a ghost. She got bored of it, but I kept going."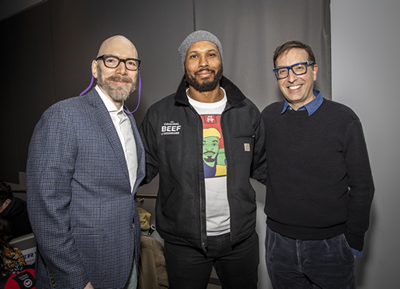 The protagonist, Ken, played by Geno Walker, is a lonely divorcee who has moved to a new town with no job in order to get a fresh start—but unknowingly moves into a haunted apartment. His primary interests include taxidermizing birds and recording lawn-care tips for his online video blog, which has a meager audience at best until hints of the hauntings become visible. His paranoia balloons and soon he's refusing to go outside, collecting packages with the handle of a broomstick and taping pieces of newspaper over the windows. He seeks connection with others, often video calling his ex-wife and his best friend to catch up and discuss his ghost-hunting videos.
"The entire time, I kept at the front of my mind that this movie is about a man trying to make his world make sense," Walker said. "Ken's mind is trying to protect him. He's really experiencing agoraphobia. When the ghost comes, you might say, 'Why can't you leave?' But he really can't! I really leaned into the pandemic isolation. It was cathartic to make this movie and draw on my own helplessness."
Ken experiences such isolation that he cannot bring himself to invite his daughters over to his new apartment. He can only bear to experience relationships through the screen. When the ghost encounters become more real and terrifying, Ken turns to other video bloggers and the author of his favorite ghost hunting book, Colin Albertson (played by Lawrence Grimm).
"What do you do when you can't leave, who do you call when you can't call anyone? You lock yourself in your own apartment and get advice from strangers on the internet,"  Neveu said.
Tolchinsky asked about the horror genre specifically and why Neveu feels drawn to it, especially since so much of the film is comedic—as is a lot of Neveu's writing and teaching work.
"It's an interesting aesthetic—a quirky lens to experience social dilemmas," he replied. "The metaphor is everything. It's not just 'This is scary.' And it's also entertainment, a balance of anticipation and catharsis."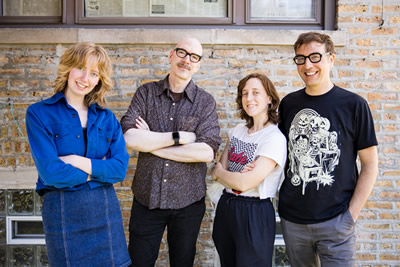 The panelists also spoke about the making of the film, as it was an all-Chicago cast and crew, shot in Chicago during the pandemic. The three emphasized that the Chicago film scene is booming, and many Northwestern alumni and even a few current students were involved in the production. A costumer for the film, Abby Cottier, spoke up from the crowd, saying that they have had fulfilling work in the film industry since moving to Chicago a few years previously. Walker even worked on two sets at once during the production, shooting HBO Max's South Side during the day and Night's End at night.
Phillip Kenner, an MFA student in the Writing for the Screen and Stage program, called the screening and talkback encouraging.
"The post-screening talkback was illuminating, encouraging, and gleefully twisted, much like the film itself," he said. "Hearing Brett and Gino unpack their processes was a highlight of the night and the perfect tonic after a genuinely terrifying but inspired movie."
Night's End is a Shudder original film, a Crow Island Films and Institutional Quality Production, and stars Geno Walker, Kate Arrington, Felonious Monk, and Michael Shannon (Knives Out). It was produced by Neal Edelstein (The Ring, Mulholland Drive), Brett Neveu, and David Tolchinsky, professor and director of the Pritzker Pucker Studio Lab. Lucinda Mandel (C19) was the production coordinator, and Grace Hahn (C16) alumna served as line producer.