Alumna and Comedian/Writer/Actress Ziwe Celebrates Northwestern's African American Studies Program
Alumna and Comedian/Writer/Actress Ziwe Celebrates Northwestern's African American Studies Program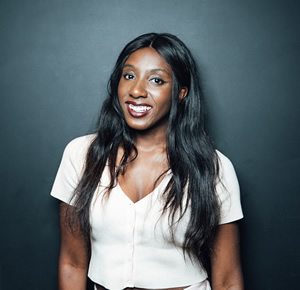 Comedian, writer, and actress Ziwe Fumudoh (C14) spoke about becoming a (not-so) overnight internet sensation, pushing boundaries, and working on her late-night Showtime variety sketch show, Ziwe, as the keynote speaker during the 50th Anniversary celebration of Northwestern's African American Studies program on May 20.
(Ziwe, as she's known professionally, is a graduate of the School of Communication with a major in Radio/Television/Film; she double majored in African American Studies in the Weinberg College of Arts and Sciences.)
"What I appreciated about African American studies was it really opened my eyes and allowed me to create this show I have on Showtime that allows me to investigate racial hierarchies in America," Ziwe said during her remote appearance, screened at the Block Museum Auditorium. "I took the social meaning of race—and I remember that class really depressed me—and in that depression, I became stronger. So, as you guys read about the multitude of racial injustices that have existed since our country's founding, know that you can turn that into a television show."
Ziwe's address, and the panel of alumni speakers with student moderators Karina Karbo-Wright and Onyekaorise Chigbogwu, celebrated the origins and evolution of AfAm studies (as it's known) at NU. After the 1968 peaceful takeover of the University's Bursar's office by more than a hundred students, Northwestern agreed to expand studies of Black history and culture, and Northwestern's African American studies department was born.
Mary Pattillo, the Harold Washington Professor of Sociology and African American Studies and chair of the AfAm department wrote in the "AFAM at 50: Extending Our Reach" event booklet: "The early years of African American Studies at Northwestern were contested, rocky, and underfunded. Today, we are a robust and respected campus unit with a world-renowned faculty, brilliant graduate and undergraduate students, a dedicated staff, and many allies and affiliates across the University."
During the Q&A session, Ziwe was asked about her experience of microaggressions during her time at Northwestern.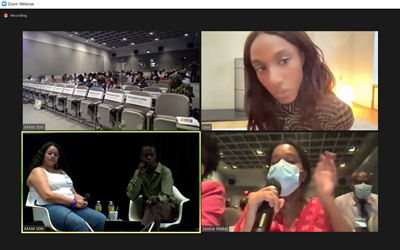 "I started college as a math major, and I was determined to work as a banker and make money," she said. "I'm going to college, and if I'm going to go into debt, I'm going to make money. I had a really good education. I went to boarding school before I went to Northwestern. And we'd do these group projects in my math class, and my co-conspirators, my peers, would always second guess my answers that were always right. That was when I quickly realized that I can't do a lifetime of people undermining me because they see my complexion. So, hard pivot, I'm going to go into the arts and sciences, and do something where I will be celebrated for my differences."
That's when she said she found her home as a dual RTVF and AfAm major. Ziwe, who kept the audience laughing with witty banter and jokes, encouraged everyone in the audience to make their own paths even if, and especially if, they are uncharted.
"I created a lane for myself that did not exist when I was in high school," said Ziwe, who first attracted notice with her hilarious interviews in her Instagram Live and YouTube Talk series Baited. "There was no such thing as a viral internet sensation that sells a show to Showtime when I was in high school. Everything about my career is organic…. Over time, I just vibed with the universe. I said, 'I'm going to be persistent.' I'm not getting the things I want when I'm auditioning for these clubs at Northwestern, what if I just writing privately, so I get this unpaid internship. Hell. OK, so what if I also start improvising. Is that fun? I would not say it is! OK, but now I have the tool set and to start tweeting and making TikToks, and working with peers… and over the course of ten years to be an 'overnight success' but by the way, it took ten years, I figured out the exact niche job description that did not exist when I was a kid."
Patrick Johnson, Dean of the School of Communication and AfAm professor, who introduced Ziwe, called her the "consummate 'hyphenate'".
"A do-it-all comedian, writer, actress, essayist, It may surprise you to learn (pause) she was the exact same way at Northwestern," he said. "She started out as a math major, then discovered sociology, which led her to AfAm studies, and then to English, poetry, and eventually to Radio/Television/Film, where she excelled in comedy writing. It's important to note that her path wasn't at all haphazard. It was a calculated journey where she explored her skills, ideals, passions and plans."
Ziwe, who is currently writing a book of essays, The Book of Ziwe, which will be out this fall, is currently in her second season of Ziwe and was named one of Time's 100 Next Gen Leaders.
Two other dual SoC and AfAm alums spoke on panels before the keynote address. Marcus Poole (C74), a business consultant and attorney, spoke about the early days of the AfAm department, and how his African American studies classes taught him to see the world in a new way. He began to see harmful racial stereotypes as not at all accidental.
"I came to understand that African American studies was a way to see it was a pattern," Poole said. "Because…the battle for ideas is always out there. You have to battle for the truth all the time."
Torri Stuckey (C04) who heads the North American Rail at BP and majored communication studies with a minor in AFAM, spoke about growing up in a poor community on the south side of Chicago Attending Northwestern on a football scholarship helped open his eyes to different communities and different ways of thinking. In working for BP in the aftermath of the George Floyd murder, the company responded by organizing talks during which employees shared their own experiences with injustice. Stuckey felt the company should do more. A viral social media post, which got more than 60,000 views, resulted in his CEO taking up some of his suggestions to make BP a more equitable company for its employees.
"I could have been afraid to speak up but speaking up actually led to a lot of good things," he said. "If I could leave anyone with anything, it would be if you feel led to do something, even if it may seem crazy to you, if you feel genuinely led, go ahead and do it. I tell myself I'm married to a cause, not a company. If this company is going to fire me because I'm speaking freely about something I feel passionate about, it's probably not the company for me."