Van Zelst Lecture: Maria Bamford And How Comedy and Mental Health Coexist
Van Zelst Lecture: Maria Bamford And How Comedy and Mental Health Coexist
With sharply funny and deeply insightful stand-up centered on the importance of advocating for one's own mental health, Maria Bamford, a comedian known for her personal and experimental comedy and her character voice work, gave the annual Van Zelst Lecture in Communication via Zoom on April 30.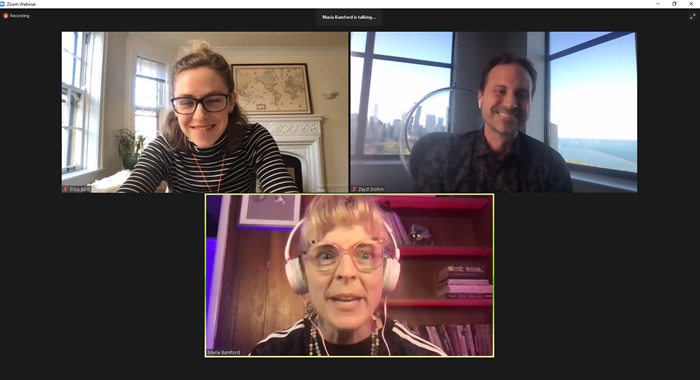 "I adore Zoom… I'm so afraid to leave this venue. I love the power to mute and to be muted at any point. It's democracy in action," she said during the Zoom event, made possible by a generous gift from Louann and the late Theodore Van Zelst. "And I miss the Zoom bombers. I don't know if it's happened to you, but it happened to me a view times, and it was so explosive, just like they promised. It stopped at a certain point. I don't know if the firewalls got too high. I just wanted to give creative support to the Zoom bombers out there. I assume it's men in their 60s in the suburbs of Denver."
Bamford, who stars in the surreal and semi-autobiographical comedy Lady Dynamite on Netflix, also has three unconventional hourlong stand-up specials, including one where she performs for an audience of two: her parents. She also was the first female comic to have two half-hour Comedy Central Presents specials, and she's known for her voiced characters for Big Mouth, BoJack Horseman, Summer Camp Island, Adventure Time, Talking Tom and Friends, Bob's Burgers, Legend of Korra, Puss in Boots, CatDog and PBS's Emmy-winning series, Word Girl. In 2014, she won the American Comedy Award for Best Club Comic, and she was nominated for an Emmy for her guest appearance on the Netflix children's series Ask the StoryBots. She also created and starred in the cult hit web series The Maria Bamford Show.
"I have been trying to better myself throughout the quar [sic], but I also worry that if I did something, like stop eating white sugar and flour… would I ever be able to stop talking about it?" she joked. Then, in one of her character voices, she deadpanned, "'Maria, oh my God, I've been clean off sugar and white flour, I mean those are drugs, for 42 days, and it's like, I have so much more energy… But… what's been the best thing about it is that I am just so much more conscious in my relationships.' And yet… you haven't noticed, I've fallen asleep with my eyes wide open. Can we talk about anything else? I'm a 50-year-old white woman. I've heard a tale of dietary transformation. Unless it starts… 'And then, they went up a mountain, and found the Tapatio-infused water that they would drink because it's gluten-free…' Then, maybe I'm interested."
She also joked about her own struggles and attending 12-step programs.
"They're free, that's what I love about them. They're a cult," she joked. "Number one, free. Number two, free. And three, they can't kick you out."
In the Q&A after the session, moderated by Department of Radio/Television/Film Chair Zayd Dohrn and lecturer Eliza Bent, they discussed her creative motivation.
"Some people feel more like entertainment is a service, and they're more interested in always entertaining the crowd. That is not my opinion," she said. "I want to entertain myself first. Because I'm the one who has to be there."
She also talked about the difficulties of balancing her mental health and the pressures to succeed in Hollywood.
"I've had different highs and lows," she said. "About 15 years ago, I got about three seasons of being this crazy Target lady character, which was the dream come true and yet it was also golden handcuffs. I couldn't say anything about the experience publicly and I ended up having a manic episode as a result of that anxiety. So, the main thing to me is to have my mental health. I'm on meds now, which make it so that I sleep regularly."
She said she made the conscious decision not to be in the writers' room of Lady Dynamite, because she had to prioritize her mental health.
"If you're going to write, direct, and act as the main number one on the call sheet of your own show, you're only going to get maybe four hours of sleep a night," she said. "I just want to have a good life and that means having to advocate for one's self."
School of Communication Dean E. Patrick Johnson said Bamford brought "much-needed levity in these dark times" and thanked the Van Zelsts for their continued support of the School of Communication.