Oscar-Winning Iranian Filmmaker Holds Virtual Master Class
Oscar-Winning Iranian Filmmaker Holds Virtual Master Class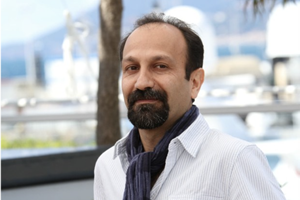 Two-time Academy Award-winning Iranian filmmaker Asghar Farhadi dazzled the Northwestern filmmaking community with stories of his creative process during a special virtual masterclass offered to students on November 18.
"I made my first film when I was 13 years old," Farhadi said through an interpreter on Zoom. "I didn't know what filmmaking was. I read a book that I couldn't understand, but I did get one part of it, and based on that, I found out how they make movies. I found that when you want to make a movie, take it in parts and stitch them together. From that moment on, I made one short movie each year."
Farhadi twice won Oscars in the category of Best Foreign Language Film—for A Separation (2011) and The Salesman (2016)—which makes him one of the few directors worldwide who have won in this category more than once. He also won Best Screenplay at the Cannes Film Festival for The Salesman and the Cannes Film Festival's Grand Prix for A Hero.
Farhadi said he was greatly influenced by studying theatre at university in Iran and was particularly inspired by Henrik Ibsen.
"When you enter theatre, each audience member is not seeing the play from one location," he said. "This has meaning for me. When you watch a theatre (performance), depending on where in the theatre you're sitting, you might have a different experience. I tried to expand this in movies. Sometimes, when people talk about my movies, their opinions are very far away from each other. Maybe there's a filmmaker who doesn't like that and wants everyone to think exactly the same, but I like an audience to watch my films from a sociological point of view or from a moral point of view or political point of view and see it in a different way. For me, this came from theatre."
This lesson was especially salient for interdisciplinary School of Communication students.
"When I start writing, I just think of one thing: that the story I'm writing should be exciting and not bore the audience," he said. "I never start with the concept or subject of film. Those are things I find later on."
Farhadi did not come to America to accept his 2016 Academy Award in protest of the Muslim Ban, or Executive Order 13769, which greatly restricted the U.S. entry of travelers, immigrants, and refugees from Iran, Iraq, Libya, Somalia, Sudan, Syria, and Yemen. Instead, Farhadi had a statement read for him, which condemned the ban and called for empathy.
"Empathy is a kind of emotional state that makes you judge things more fairly," he said when asked about his acceptance speech. "In classical tragedies, after the play was over, the audience would be in an emotionally refined state of mind. They called it a catharsis. The same thing happens when you're watching the film and feeling empathy. You (have) a catharsis, and you become more fair in your judgement."
When asked about how he has dealt with failure in his career, Farhadi said it's essential for all artists.
"Without failure, you can't be successful," he said. "Whenever I had failure, it would give me energy to make the next movie stronger. Failure is like a gasoline for a car. It smells very bad and it's annoying, but if you pour it into the car, it makes it move. Without failure, you can't move."
The virtual session, moderated by Zayd Dohrn, professor and director of the MFA in Writing for the Screen and Stage program, was made possible by a Global Campus Collaborative Virtual Visitorship Grant from Northwestern Buffett Institute for Global Affairs and The MFA in Writing for the Screen & Stage program. EPICS provided event and promotional support.