MFA Design Students Chosen for Winning Special Virtual PQ Studio Contest
MFA Design Students Chosen for Winning Special Virtual PQ Studio Contest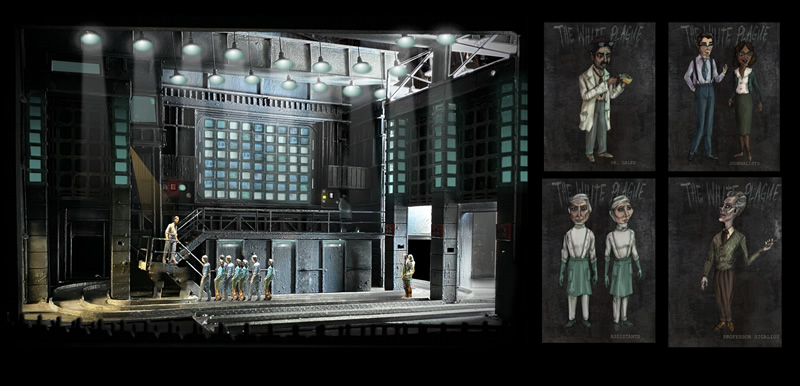 Northwestern MFA Stage Design students were among the winners of a special virtual studio version of the Prague Quadrennial, a showcase of the best theatre design from around the world.
Third-year students Meeka Postman (costume design) and Joe Johnson (set design) competed in the showcase's PQ Studio contest alongside entries from around the world, all focused on the staging of 1937 play The White Plague by Czech playwright Karel Čapek. The eerily prescient play tells the story of a pandemic that sends a panic through an unnamed country as it kills citizens older than 45. The government in the play is run by a dictator who uses the pandemic as an opportunity to go to war, rather than to find a cure.
"The Prague Quadrennial, in this time of the pandemic, wanted to allow designers from different schools and different programs from around the world the chance to respond to the current moment," Postman said. "A lot of people just don't have projects to work on. And a lot of us have a lot of thoughts about the world and what's happening. This play was written in 1937 and, if you read it, it has so many parallels to now. They found the perfect play in perfect time."
The PQ Studio contest tasked designers with submitting a performance design in total, which needed to include a minimum of set/space design and costume design. Submissions could also include puppet, lighting, sound, and/or projected media design. The judges asked that designs reach beyond aesthetic beauty and toward an end product that was emotionally charged, genre-blurring, and innovative.
Northwestern had three teams working on projects, but only one team per university could be submitted to the competition. There were 12 winners worldwide, but Northwestern was among only three winning American universities that included Yale School of Drama and Carnegie Mellon University.
Northwestern's design teams met weekly, virtually, for seven weeks, mentored by Ana Kuzmanic (GC04), costume designer and associate professor of theatre, and Mary Zimmerman (C82, GC85, 94), director and Jaharis Family Foundation Chair in Performance Studies.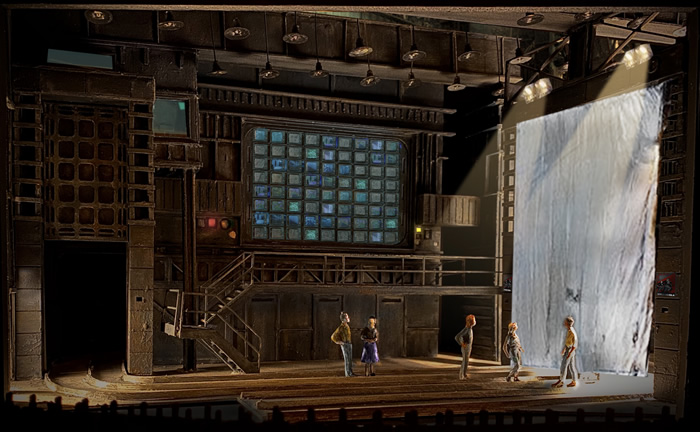 "The students really just jumped at this opportunity and, to put it in perspective, in our classes, our students have 11 or 12 weeks to complete a theoretical design, and in professional life, you usually have a bit longer—say, a few months," Kuzmanic said. "But here, they had seven weeks, from beginning to the time of presentation. It was really a brutal timeline. Their dedication was really fantastic—not just their diligence, but also that intellectual dedication to searching and exploring."
Working virtually had its own set of challenges, especially because Postman has been taking her virtual classes from Honolulu, while Johnson lives in Chicago.
"If she were here in Chicago area, we could maybe go to the studio, and she could look at a model, or she could bring in her costume drawings," Johnson said. "For us, it was completely having to be in two separate areas—and two separate time zones—all the time. It was challenging just to schedule work time."
Ultimately, Postman said the project was invigorating.
"It felt really validating and made me get excited about theatre, which is really hard right now," Postman said. "We've all had to ask ourselves in this time: should I think of a second career path? And that's a very scary thought in the middle of grad school."
Zimmerman found the process both moving and affirming.
"They got zero credit for this; they were not working for a grade," she said. "There's no monetary aspect to the prize, and yet, they were obsessively devoted to it…They are really overworked and busy and suffering like everyone is on Zoom, but they clutched this project, and it was incredibly affirmative on every level. (It was) about true devotion to the discipline and the craft."
The COVID-19 pandemic, said Zimmerman, has been crushing to the craft.
"The calling card of theatrical performance is presence," she said. "That's the irrefutable, distinctive, necessary element for theatre that distinguishes itself from film or any other media…that is devastated in our current situation. And a whole lot of colleagues, myself included, can barely lift a finger because it's so depressing. We're severed from our vocation. Zoom is not a substitute…but this project, it very much resembled a more normal pre-production process. And, I'm impressed these students had the energy and they were not defeated and they wanted to do it."
PQ Studio entries ranged from set locations based in nuclear power plants to costumes that transformed characters into birds. Johnson and Postman's entry was set in the Goodman Theatre, a location noted by Markéta Fantová, artistic director of the Prague Quadrennial of Performance Design and Space.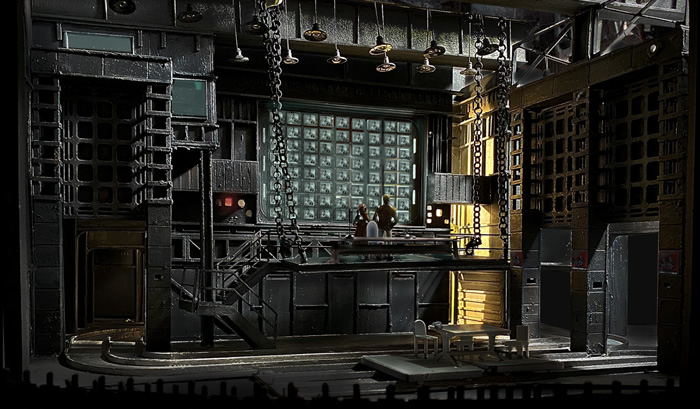 "Something we admired about this project is the craftsmanship of their model, and in general, their approach with regular cineography on stage," she said during a special Zoom conference focused on the work of Čapek. "The lighting was heavily involved in the changes. This was something they really thought through: how to use their theatre space to the maximum."
Johnson said they picked the Goodman deliberately, as they want nothing more right now than to be inside a theater—that one in particular.
"We both felt like we needed a really big container," she said. "Isolating scenes with one or two people seemed very interesting to us. Sure, it would be fun to go on a site-specific location or space, but just being able to have a blank slate of a theater and create something from that, I find as a set designer to be really great."
Postman said the least favorite part of it was competing with her fellow grad students. Zimmerman and Kuzmanic said if they could, they would have submitted all three projects, which were created by second-year students Tianxuan Chen, Yun Lin, Alaina Marie Moore, Kotryna Hilko, and Maximo Francisco Grano De Oro, and third-year student Nora Smith.
Ultimately, Robert Falls, Artistic Director at the Goodman, helped choose the winning Northwestern project. Kuzmanic was particularly impressed with how the students worked together to support each other, and even those not chosen went on to support Postman and Johnson.
"I'm so proud of their congeniality and the support they gave each other," Kuzmanic said. "I find that congeniality, especially in these times when we're all taking care of ourselves, was really something to be excited about."