Inside "A Strange Loop": Creator Discusses Themes and Process Behind the Pulitzer Prize-Winning Musical
Inside "A Strange Loop": Creator Discusses Themes and Process Behind the Pulitzer Prize-Winning Musical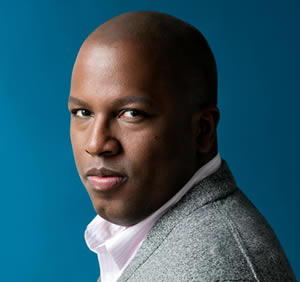 The 2020 Pulitzer Prize-winning musical A Strange Loop has been lauded for going where few other mainstream theatrical works have dared: to the center of the Black queer experience with unfiltered honesty.
Michael R. Jackson, Loop's creator and the second School of Communication 2020-21 Hope Abelson Artist-in-Residence, spoke about his approach to and inspiration for the semi-autobiographical musical with Dean E. Patrick Johnson, associate professor Miriam Petty, and director Lili-Anne Brown (C95) on February 25 over Zoom.
A Strange Loop follows Usher who, as Jackson once did, works as an usher for Broadway's The Lion King. He is overweight, Black, queer—and ghostwriting a new Tyler Perry play, a fraught exercise given Perry's controversial representation of and standing with Black audiences. The musical uses the medium's familiar forms to deliver an altogether different approach to parody: the paradox, trauma, and joy of being Black and queer and religious, which, as Johnson said at the start of the discussion, "gave me life."

"Part of the project of A Strange Loop overall was I wanted to put the audience, whomever they were, even if they are other Black gay men or if they are old white ladies or whatever, I wanted to as much as possible put them inside the experience of what it can feel like to be a person inside of the Black church experience," Jackson said. "It was an important training ground and a community for me as a kid. But what comes with that is also a lot of the homophobia and the sanctimony and the general sex negativity overall that is also hypocritical…And it's just like in order to make the audience be inside that experience, I had to represent both sides of it at the same time."
Brown, a Chicago theatre mainstay and the former artistic director of the Bailiwick Chicago, queried Jackson about his use of perception and expectation without making the Black experience monolithic.
"I feel like I have gone through many loops of this in my life," Jackson said. "Because the thing I always like to explain to people is I am from a Black family in a predominantly Black city. I went to Black schools. I went to Black churches. I was immersed in so much Black everything and to such a degree that it was a given for me. I took it completely for granted. Yes, if my parents would talk to me about the white man or whatever, but my daily life was I wasn't running into the white man. I was running into Black everything at all levels. So, also in some ways because of that, I had to rebel against it."
Jackson recounted how his cousin, after a stint at a performing arts camp, introduced him to the music of Tori Amos, which he called life changing.
"It was not like I somehow had thrown Blackness away or anything, but it was such a given that I felt like I can now go look at these other things and take from them the inspiration that I need. And I did. But I also at the same time had to keep it a secret."
Johnson used this push-pull in crafting Usher while also investigating what it means to be "Black enough," which he pointed out is a construct of white supremacy. That is part of the loop, he explained, the white oppression coupled with the identity questioning. But the more of white culture that Jackson consumed, be it Liz Phair or One Life to Live or Jackie Collins novels, "the Blackness was only getting more inscribed and more itself."
The musical takes aim at the work of Tyler Perry, the actor/director/producer/writer known for his Madea franchise. The character and its vehicles are criticized for their sometimes-stereotypical take on Black life and irresponsible use of homophobic tropes. Jackson discussed these phenomena at length with Petty, a scholar and critic of Perry's work.
"There are actual people then in theaters and churches both responding in the same way and that itself was a loop that I felt moving through my whole life and experience as a black gay man, and it seemed important to offer that up to this audience, to sit inside of that," Jackson said. "And the complexity and the sadness of that.  And because these things have a real impact."
Jackson, 40, never intended to write a musical, he said. At age 22 he began penning a monologue about his life journey, to which he added "very personal" music. While he nurtured the piece from one-man show to workshop, Jackson was ushering on Broadway and taking stock of what worked and what didn't in commercial theatre. He took those lessons and applied them to his evolving work. Its 2019 premiere at Playwrights Horizons in New York City was coproduced by Page 73 and Barbara Whitman Productions (Whitman is a parent of School of Communication alumni).
Jackson's honors include an Obie Award, a New York Drama Circle Critics Award, a Drama Desk Award, a Lambda Literary Award and a Fred Ebb Award. Jackson currently serves on the Dramatists Guild Council.
As the Hope Abelson Artist-in-Residence, Jackson, over a three-week period ending March 5, visited classes, lead workshops for performers, dramatists, composers and lyricists, and participated in this panel. The panel was organized by assistant professors of theatre Masi Asare and Roger Ellis.
The Hope Abelson Artist-in-Residence program was established at the School of Communication in 1990 through a generous gift from Hope Altman Abelson. The fall Abelson Artist-in-Residence was theatre director Moises Kaufman.
This event was presented in partnership with the Department of Theatre and the Black Arts Consortium.