"Hamilton" Chicago Director Shares Insight During New Speaker Series
"Hamilton" Chicago Director Shares Insight During New Speaker Series
Director and School of Communication alumna Jess McLeod knows well the struggles endured by actors of color. And for more than an hour on Zoom on January 29, as the second featured guest in the new Kelsey Pharr Jr. Speaker Series, she detailed to attendees her artistic mission to correct the errors of flawed institutions.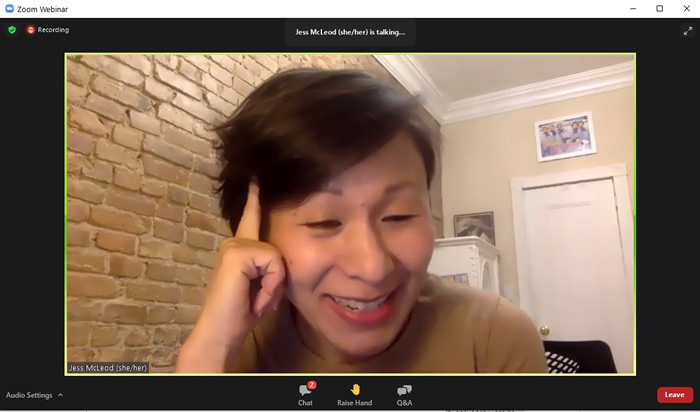 "I started directing out of spite," said McLeod, an MFA Directing graduate who was the resident director of the three-year run of Hamilton Chicago. As a first-year student at Williams College, she won the role of Blanche Dubois in Christopher Durang's Desire, Desire, Desire, a satirical mashup of several Tennessee Williams plays, directed by the then-chair of the theatre department. But the creative process was fraught.
"Rehearsals didn't go well," she said during talk, moderated by theatre faculty Masi Asare and Roger Ellis. "My timing was good, and my southern accent was passable, but something wasn't clicking for me, so I started asking (the director) about it. 'Can you help me understand what I'm supposed to be doing a little more,' I'd ask. 'I'm struggling to understand why I'm in this role. What's our take on Blanche?' The director would say, 'I don't know, Jess, but I don't like what you're doing.' I kept going. Then, one day, my friend Mike, who played Stanley…we were running a scene, and the director exclaimed, 'Oh, there's this Asian Blanche and a skinny Stanley, and it's crazy, and I don't even have to direct!'"
McLeod said she was stunned by the director's words.
"Being Asian American and playing Blanche Dubois was crazy? Does that mean my facial features, my hair, my body, my eyes, were crazy? Was that true?" she said. "I grew up in San Francisco around plenty of people who looked like me and talked like me, and I didn't know I was so different. Then, if I thought there was nothing objectively wrong with me or my body or my race, and he was just being a thoughtless idiot, was this the world I'd enter after graduation? Actors already only get, what, five percent of the roles they audition for? And Asian female roles were zero-point-two of those roles to begin with? So, if I could only audition for those roles, which were just dragon ladies and submissive flower roles, neither of which I was. And P.S., no one is those things, because they are a white Western male construction, so things weren't looking too good."
That's when, McLeod said, she decided to become a director in order to bring more diverse, interesting stories to the stage. She has since directed the world premiere of Paola Lázaro's There's Always the Hudson at Woolly Mammoth and Goodman New Stages, and Kate Hamill's Pride and Prejudice at Long Wharf. Recently, she created a mini-musical with Ari Afsar, who played Eliza in the Chicago Hamilton production. The mini-musical was inspired by the killing of George Floyd by a Minneapolis police officer.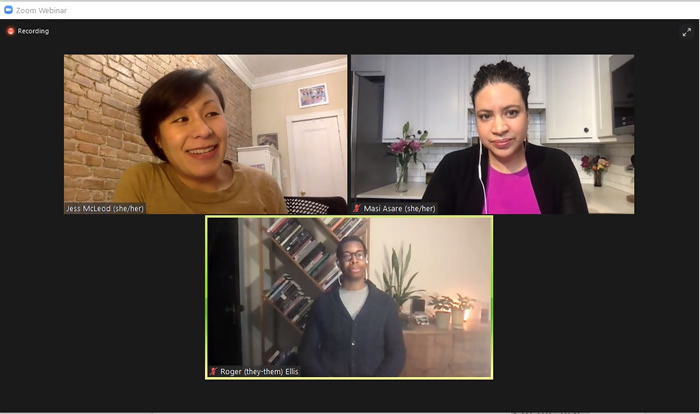 "When we watched the video of Derek Chauvin murdering George Floyd, we also noticed and were devastated by the fact that there was a Hmong officer, Tou Thao, who basically acted as a lookout. I called Ari, and we were talking about it, and I said, 'Asian Americans are the lookout for white supremacy and we have to stop,'" McLeod recalled. "That's a big statement. It's a provocative statement. But it's what I saw, and my mind filled with these questions: model minority, but model minority to whom? I'm pretty outspoken, and more outspoken than most Asian Americans I know, and I still have moments when I reach out and something stops me. I still have all of that inside me. And Ari felt the same way, and we talked about it. And then a really cool opportunity came up to create a short musical for Big Sky Theatre Festival, and she said, let's work on that—and we did."
During the Q&A portion of the event, a student asked whether exploring Asian American complicity in anti-Black racism might take away from the marginalization of the Asian American community.
"What a great question," she said. "We need to dismantle anti-Blackness in Asian American communities…and we need to do that in a way that can trust that doesn't de-center ourselves. Society and white American society erases Asians all the time. And we do that ourselves, and we learn how to do that from white people. And we learn how to do it from our parents, and all this societal pressure. We're supposed to be quiet, and we're not supposed to rock the boat… And, I think what we have to do is rethink what it means to have a voice. So, that's the part we have to fix first. As an Asian American, you have a voice, and your voice shouldn't go toward keeping white people several steps above us on the ladder.
"This is what I mean: model minority to whom? No one chooses to be born in the racial ladder of America. But here we are, we're on this white supremacist, patriarchal, capitalist ladder. And so in order to take the ladder down, which everyone has to do, I really think Asian Americans need to stand in solidarity and combat anti-Blackness, and we need to know that is going to help free us, too, from white supremacy. I really believe it will. To me, that's why it doesn't further marginalize us."
Curated by theatre faculty Masi Asare and Roger Ellis, the Kelsey Pharr, Jr. Speaker Series hosts artist-scholars who represent diversity and inclusion in the performing and media arts. The series is named after Kelsey Pharr, Jr., who was among the first Black actors to grace a Northwestern stage. The son of a Miami civil rights leader, Pharr performed in The Waa-Mu Show in 1937 and 1939, was featured in four Broadway shows, and achieved great musical success with the group the Delta Rhythm Boys.
The next installment of the series will welcome in spring composer Brian Quijada.
Learn more about McLeod's short film projects here: https://amtp.northwestern.edu/victory-triptych/