Dialogue with the Dean: John Leguizamo
Dialogue with the Dean: John Leguizamo
Dialogue with the Dean: E. Patrick Johnson Kicks Off Year Two of Series with Multi-talented Artist John Leguizamo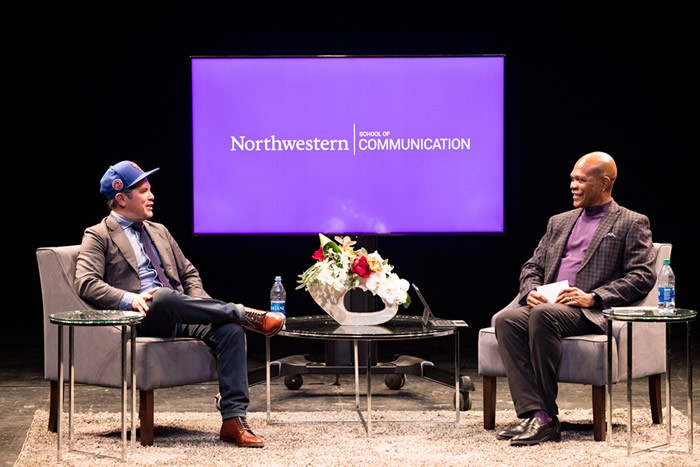 When John Leguizamo was a young teen, he commandeered a New York City subway conductor's intercom and workshopped his first public comedy routine. With impressions of cartoon characters and early glimpses of his signature wit, commuters got an impromptu taste of what the rest of the world was in for.
The mediums have changed, but Leguizamo's style has not: clever, quick, real, and raw. The actor-writer-director-comedian graced the Northwestern School of Communication community with all this and more during the first Dialogue with the Dean of the academic year on November 16 in the Josephine Louis Theater at the Virginia Wadsworth Wirtz Center for the Performing Arts.
Sitting down with Dean E. Patrick Johnson in front of both live and virtual audiences, the ninety-minute discussion covered his memorable roles, acting techniques, quest for parity and representation for Latinx artists in Hollywood, and why this craft came so naturally to him.
"Comedy was everything for me, it was my survival mechanism, it was what gave me credit in the street; (and) what helped me survive the street would help me survive my household," he said. "It still continues to be the thing that that I lean toward; it's the thing that bring me the greatest joy. I love a drama too cause I grew up with a lot of drama."
The Colombia-born, New York City-raised artist had a tumultuous childhood, as detailed in his memoir Pimps, Hos, Playa Hatas, and All the Rest of My Hollywood Friends: My Life. Emigrating from Colombia was hard on his parents, who wound up divorcing after 15 years of marriage. His father was abusive, and they moved around New York a lot.
"I always had to be the new kid in the new school and the new block constantly, so I see that pattern. A lot of actors (who have to) move a lot…their imagination is triggered and…they learn how to study behavior more."
Leguizamo rose to prominence through his edgy stand-up but quickly established himself as a bonafide scene stealer in such films as Carlito's Way, To Wong Foo, Thanks for Everything! Julie Newmar, Moulin Rouge, and the Ice Age franchise. He is a celebrated author of autobiographies and graphic novels and a virtuoso of the one-person show. His latest, Latin History for Morons, was nominated for a 2017 Tony Award and enjoyed an extended run on Broadway. And earlier this month, he released the comic series PhenomX, which celebrates Latinx culture.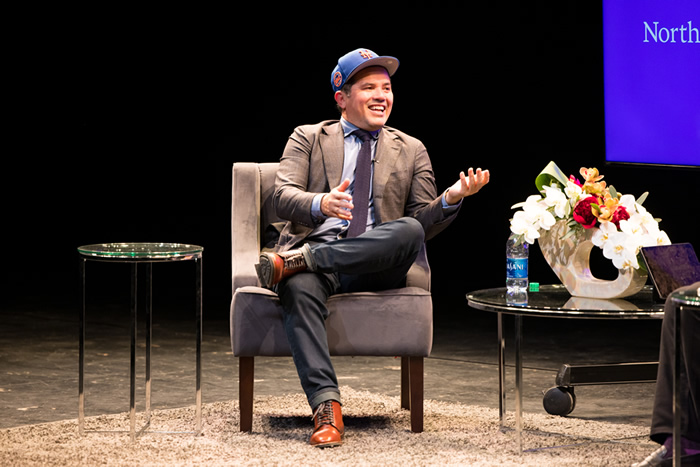 He earned a Special Tony Award in 2018, and in 2019, John earned both a Critic's Choice and Emmy Award nomination for his role as Raymond Santana Sr. in the Netflix series When They See Us. He also received an Emmy nomination for his role in the Paramount Network television series Waco. His directorial debut, Critical Thinking, was selected to premiere at South by Southwest Film Festival. He will also appear in Barry Levinson's upcoming film, The Survivor, alongside Ben Foster and Danny Devito.
Through his long and storied career, Leguizamo has become an advocate for artists of color, particularly Latinx artists. Johnson asked how he reconciled the theatre industry's adherence to canonical plays written by the likes of Shakespeare or the Greeks when so many artists of color feel left out of the conversation.
"You feel like, 'Okay, I respect the writing and I think it's important, but I also want to be included, because I have a talent and I want my talent to be used before I pass, so I think we need our new playwrights, we need to nurture them with all our soul and all our heart," Leguizamo said. "All our Latin and Black and Asian and Indigenous playwrights, we've got to nurture them and help them get to that place that the other playwrights were able to get to…I'm trying to ask for Latin inclusion because we're 20 percent of the population, but less than 4 percent of the faces in front of the camera, less than 1 percent of the stories, executives, or crew—and you know, in Hollywood we're 50 percent of the population. There's a cultural apartheid."
"I'm asking for 20 percent of the stories," Leguizamo added of his mission. "White people get to fail a lot. We get one shot and if it fails, everybody else's work is dismissed and discarded."
A critical part of his efforts are his six one-man shows, most recently Latin History for Morons.
"It's the most intimate experience between a performer and an audience. There is no middleman," he said. "I was able to use it for that because we Latin people are so invisible, but I could put our stories on stage…it became an incredible way of activating an audience. When I started my one-man shows, I wanted to bring part of my experiences of being a Latin man in America and an immigrant—it was that our comedy is edgy our comedy is angry our comedy is drama. So, I brought to the comedy, drama that you can mix it to, and you can sucker punch people with a joke, and then I sucker punch (them) with something really painful and hard, and I think I brought that to America."
Leguizamo was the first featured guest of 2021-22 in Dean E. Patrick Johnson's Dialogue with the Dean series, a series to engage emerging and established artists and scholars in conversations about social justice, politics, media, communication, and culture. Last year SoC featured communication scholars examining race, ethnicity, and class and how these identifiers fit into, and often clash with, our increasingly digital existence. This year Dean Johnson is spotlighting artists, especially those who use their platforms to tell forgotten or ignored stories—who create to educate as much as entertain.
Comedy is a truth-telling medium, and Leguizamo has long been a delegate. His conversation with Dean Johnson bounced around his career and his inspirations, his vision and his (few) regrets. After answering several audience-submitted questions, the crowd erupted in cheers for the gracious guest, celebrating a return to-in person entertainment with one of the more entertaining persons out there.