Chicago Journalism Legend Discusses the Black Northwestern Experience with Dean Johnson
Chicago Journalism Legend Discusses the Black Northwestern Experience with Dean Johnson
The School of Communication has a message for those long left out of the dialogue: we're here, we're listening, and we're taking action.
In a frank, invitation-only discussion, Dorothy Tucker (C78), Chicago journalism mainstay and the president of the National Association of Black Journalists interviewed School of Communication (SoC) Dean E. Patrick Johnson about his mission to identify and amplify the experiences of students, faculty, staff, and alumni of all underrepresented groups, but in particular those in our Black SoC community.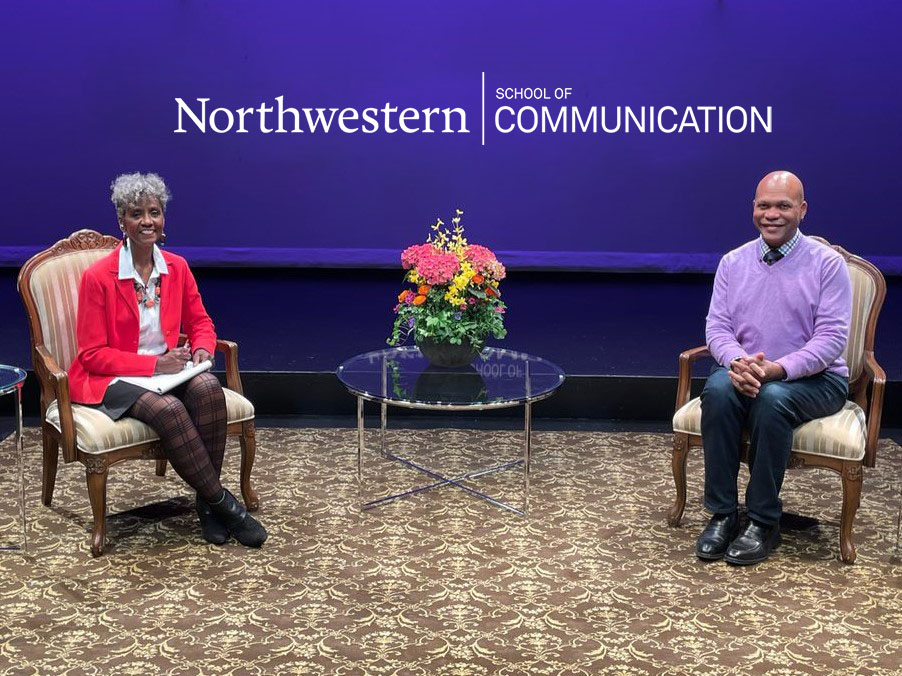 The hourlong April 7 Zoom event, "Elevating Black Voices," covered much ground, including the story behind the dean's name, how he wound up at Northwestern more than two decades ago, the challenges of starting his deanship in 2020, the ups and downs of being a Black student at the University, and the central focus of his administration: diversity, equity, and inclusion.
"One of the things that I've discovered about any leadership position is that people just want to be heard. That's what I do in my own research. I'm an oral historian and I constantly talk to people about their lives," Johnson said. "I'm invested in becoming a vessel, a platform for people to tell their stories, to be confirmed and affirmed."
What he has heard so far through a series of new listening sessions, he told Tucker, was the dire need for more Black faculty; expanded creative and research opportunities for Black students; a sense of connection to and affinity for the campus community; a broader, non-Eurocentric curriculum; and pathways for growth and success throughout the SoC.
"Part of my ethos as a leader comes from the experience of being the son and grandson of domestic workers," Johnson said. "I went to work with my mother and grandmother when they went to clean white folks' houses, so I understand that dynamic, when you are serving the food but not asked to sit down and enjoy it."
Tucker, a longtime reporter and investigative journalist with CBS 2 (WBBM) in Chicago, has won several Emmy Awards, the 2021 Greater Chicago Leaders Network Living Legacy Award, and the 2019 Chicago Defender Women of Excellence Award among others. She is active in alumni networks and, with her husband Tony Wilkins who is also an alum, has three children. Tucker demonstrated her deft interviewing skills in her far-reaching yet personal questions—and she consistently kept the focus on the Black student and alumni experience, especially when it came to recruitment.
"How do you bridge a relationship with the community," she asked, "are you having to mend some fences?"
Johnson replied that bringing the community to Northwestern is easy but bringing Northwestern to the community is the harder, more necessary work. Be it through events and outreach in South and West Side of Chicago neighborhoods, targeted recruitment at largely Black high schools, more partnerships with Northwestern's Black Arts Consortium, which Johnson founded in 2012, and ensuring that current students get to experience "Black Chicago" through his Black Arts in the City initiative.
And in less than a year into his deanship, he's launched a staff advisory council, a DEI task force, a targeted pipeline for post-doctoral candidates and PhDs to join the faculty, the aforementioned listening sessions targeting individual demographic groups, new Black faculty hires, and an ever-evolving curriculum that's more representative of the world in which we live.
"I've always been interested in bridging the gap between the ivory tower and the front porch," Johnson said. "One of our obstacles to getting more students to even apply to Northwestern is that it's seen as this faraway place on the North Shore and that nothing Black is going on here. And that's not true. There's a lot that's going on."
Navigating the disruptions, disinformation, protest, injustice, riots, and reckonings of 2020 and the first half of 2021 likely resulted in a "loss of innocence" for the students, Tucker said, which is contributing to an exponential spike in need for college mental health resources. Complicating this are the challenges of being a BIPOC student at a largely white university, they both acknowledged, and the uncomfortable fact that the School had never actively engaged its Black alumni—until now.
"I think for me socially it was great," recalled Tucker, who was a radio/television/film major in the then-School of Speech. "Academically, I did very well in my classes but felt like it was never really acknowledged—in that I did not have a relationship with my white professors. I did not get encouragement, I did not get much support, I felt like I had to get anything on my own."
When she graduated and started pursuing professional journalism, she said she began to see the dividends of her experience—that in the real world you had to fight for what you got, and the Northwestern name opened doors. But if it weren't for her inspiring Black professors in other departments, she may not have stayed at the University. And even with the great friends she made and the exemplary education she received, something was missing—and it took her more than a decade to want to come back into the Wildcat fold. It's an experience, unfortunately, that's all too common among Northwestern's Black graduates.
"If you want stronger alumni," she said, you've got to make the students feel loved."
That, Johnson said, is exactly the plan.
Elevating Black Voices: Dean E. Patrick Johnson in Conversation with Dorothy Tucker include an introduction by MaryAnn Marsh, a Chicago-based real estate broker and entrepreneur and the president of the Northwestern University Black Alumni Association. The event was organized for Black alumni, students, faculty, and staff.