Professor Named New President of the International Communication Association
Professor Named New President of the International Communication Association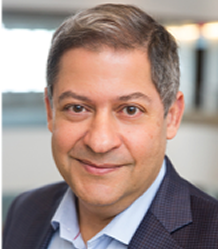 Noshir Contractor, renowned professor in the Department of Communication Studies in the School of Communication, will become the president of the International Communication Association (ICA) effective May 2022, the organization announced on October 16.
Contractor is a foremost researcher of network science, computational social science, and web science, specifically examining how social and knowledge networks form in business, scientific communities, healthcare, and space travel. He is the Jane S. & William J. White Professor of Behavioral Sciences in the McCormick School of Engineering & Applied Science, the School of Communication, and the Kellogg School of Management and director of the Science of Networks in Communities (SONIC) Research Group.
Contractor's post as ICA president will tap into his vast expertise in creating and nurturing diverse global networks.
"I consider ICA as being my perennial intellectual home since my days as a graduate student," Contractor says. "It has given me a lot over the years, and I've seen it help a lot of people. And it has played a key role in conveying the significance of communication scholarship, to the broader scholarly community, to policy makers, and the publics at large."
ICA is the preeminent professional organization for communication scholars and researchers from around the globe. It was founded over 50 years ago and comprises about 4,500 members in 80 countries. Building on its past accomplishments, Contractor wants to reimagine opportunities for growth, and as president-elect, he's set a threefold agenda to expand representation, access, and unity within the ICA.
His first goal pertains to internationalization; while the ICA is indeed global, both leadership and membership is dominated by Americans, Europeans, and Australian/New Zealanders, and annual conferences can be difficult to access for many members. There are relatively few members hailing from the Global South, Contractor says, and he is the first Indian and only the second Asian to be elected president. Reaching communication scholars from these underrepresented locations is of vital importance and will help to reposition the U.S. as one of many, not among the only, hubs of communication research.
His second goal is to foster more cross-divisional scholarship. The number of subspecialties in the ICA has ballooned in the last decade, and communications scholars find themselves siloed in such specific divisions as mass, health, and political communication. Yet global problems—the coronavirus pandemic, for instance—are pandivisional and require more collaboration among scholars, Contractor notes.
His third goal is to leverage technologies to reimagine professional and pedagogical development, wherein members have access to more teaching and learning tools, a greater ability to create and share original content, and opportunities to build and grow mentoring networks.
"It is our goal to raise awareness of communication as a credible disciplinary landing ground for scholars," he says. "I see my role as doing what I study, and that is building networks and nurturing those networks."
Contractor joins the ICA Executive Committee now in his role as President Elect Select and will serve as President for the 2022-2023 year; he will remain part of the Executive Committee until mid-2026. He is the second sitting Northwestern professor to serve as President, the first being Charles Berger in 1995-1996. Ellen Wartella, the Sheikh Hamad bin Khalifa Al-Thani Professor of Communication in the SoC served as President in 1992-1993 prior to joining Northwestern.
"I am absolutely thrilled for Noshir, and no one is better equipped to take on this new leadership role," says E. Patrick Johnson, Dean of the School of Communication. "His priorities for the ICA are very much in lockstep with my own for the School, and those are to improve parity, representation, and equal access across our community. I look forward to seeing his leadership in action."
Contractor has held various posts within the organization and is an ICA fellow. He will succeed Mary Beth Oliver, Distinguished Professor of Media Studies at Penn State University's College of Communications.