Northlight Theatre Offers Online Reading of NU Grad's Play, Mercy, Directed by NU Alum, Harry Lennix
Northlight Theatre Offers Online Reading of NU Grad's Play, Mercy, Directed by NU Alum, Harry Lennix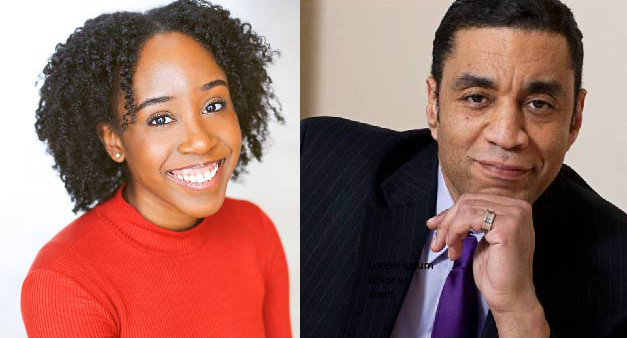 A recent intergenerational School of Communication collaboration paired fresh talent with a respected industry leader to explore a topical area of social justice.
Felicia Oduh (C20) premiered her play Mercy in a virtual reading on December 13 with Northlight Theatre—an exciting development on its own for a young creator but made more so by the involvement of actor, producer, director, and fellow alumni Harry Lennix (C86), who directed the work.
"I think Felicia Oduh has written a play that's extremely important, extremely present, and extremely prescient," said Lennix in a post-reading Q&A. "She has her finger on the pulse of what's important artistically, dramatically, politically, and socially. I'm very excited about this new voice in American theatre."
Mercy, a play about a middle-class couple whose son is wrongly accused of murder and spends eighteen years in prison, focuses on the son's return home, and the complexities of rekindling old relationships.
Oduh, who graduated in June, wrote Mercy as an undergraduate.
"I have a lot of empathy for people who have been wrongfully imprisoned. I think about that return home, and the long period of all the things you've missed," she said in the Q&A. "While I was writing this play, a friend of mine was suddenly facing a twelve-and-a-half-year sentence in jail. That's the first time I'd ever experienced anything like that, and as their friend, I realized I might not see them again until I was in my 30s, and as I thought about how we would change, and our relationship might change, all of those questions inspired me to work on this play."
Lennix, a big-and-small-screen veteran known for his roles in The Matrix films, as well for his recurring part as Director of Counter-Terrorism Harold Cooper on NBC's The Blacklist, said he was eager to direct this reading of Mercy—both in support of Oduh's artistry and because of his passion for social justice.
"I have lot of direct experience with prison sentencing reform," Lennix said. "I'm an advocate for the National Association of Drug Court Professionals, I'm a national ambassador, and they look to get treatment and education and counseling for those persons who've committed nonviolent offenses who are in prison and try to re-examine what the prison sentencing guidelines are. That's very, very important, especially in this particular social moment."
Oduh said she walked a fine line in writing the play: how does one explore this subject matter without being exploitative?
"I focused on people in the play, rather than the traumatic event," she said. "I didn't want to focus on the trauma itself, but how people are affected by the trauma. I don't want to see people suffer, and I hope no one wants to see people suffer. I'm much more interested in the relationships between characters."
In Mercy, the son returns home after eighteen years in prison to find his relationships with his mother, father, and sister have changed. He's also lost touch with a childhood friend who never came to visit him while he was incarcerated. Family secrets are revealed as well as lingering after-effects of post-traumatic stress from his time incarcerated.
The play was read as part of Northlight's Interplay program, which showcases the work of new artists. Launched in 2006, the Interplay Program has provided support for 40 new plays, 33 of which have gone on to full productions. In 2017 the Interplay program mounted Faceless by fellow Northwestern alumna Selina Fillinger (C16) about a young white woman arrested at O'Hare airport for conspiring with ISIS.
"For me, part of the joy of my job is opening and holding the door for young ambitious artists with gifts," said BJ Jones, Northlight's artistic director. "That's just part of our mission. Thanks to Joe Levy and the Sullivan family and all our donors, we've been given support to these young artists. Our strike rate has been astonishing. We've won several (Joseph Jefferson) Awards, just this year nominated for two Jeff Awards for best new work."
The Mercy reading is available until Thursday, December 17, via Northlight's website, northlight.org. Viewing is free though donations are appreciated.