Alumni's Musical Adaptation of "The Emperor's New Clothes" Opens at Wirtz
Alumni's Musical Adaptation of "The Emperor's New Clothes" Opens at Wirtz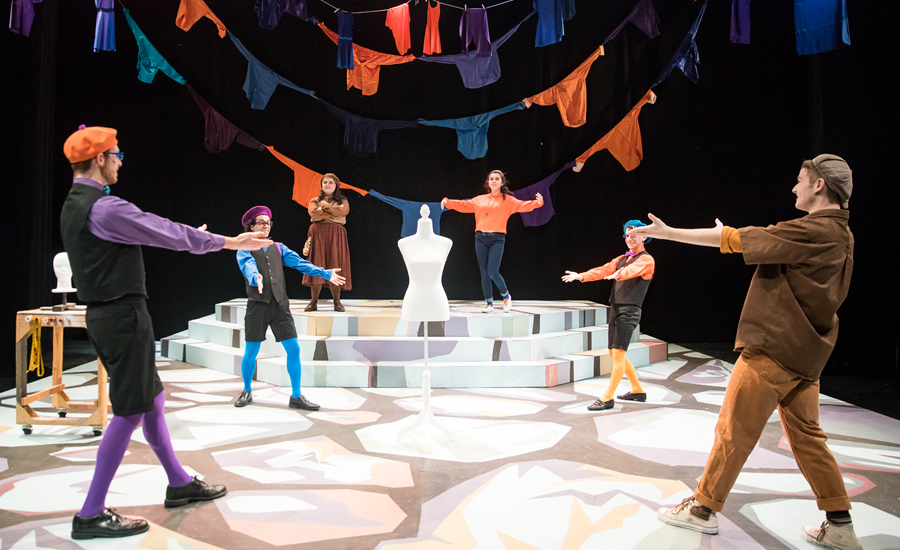 David Holstein (C05) and Alan Schmuckler (C05) were frequent and productive collaborators as Northwestern School of Communication students—Holstein majored in radio/television/film and Schmuckler was in the theatre department. But it's the product of their first professional partnership that is having a homecoming of sorts this weekend.
Their clever, toe-tapping musical adaptation of The Emperor's New Clothes begins a run at The Virginia Wadsworth Wirtz Center for the Performing Arts on February 21 through March 8. This subversive take, which premiered to critical acclaim in 2010 at the Chicago Shakespeare Theatre, was written to appeal to both children and adults alike.
"Alan and I wanted to take a show we were all familiar with and take the Pixar approach," says Holstein, a writer and producer who created Showtime's Kidding, starring Jim Carrey and Catherine Keener, and worked on The Brink and Weeds. "We wanted to create two eye-lines, one for adults and one for kids. Ours is a father-daughter story, where the daughter is a tomboy, and not that into fashion, but eventually they end up bonding over clothes."
The Emperor's New Clothes, which received a National Alliance for Musical Theater grant and is published with Rodgers and Hammerstein Theatricals, is one of two productions this year from Imagine U, Northwestern's family theatre programming. It's aimed at audience members ages 7 and up.
"It's a story about parents and children understanding each other a little better, so I hope it warms a lot of hearts and inspires grownups and kids to hug each other a little tighter," says Schmuckler, who wrote the music and lyrics for the production as well as the songs on Kidding, among many other projects. "I hope everyone who sees it laughs hard, gets a little choked up, and leaves feeling warmer and lighter than when they walked in."
The production features a Northwestern student cast and direction by Chicago-area theatre artist and choreographer Amanda Tanguay.
"I was drawn to this show for a number of reasons," says Tanguay, whose husband appeared in the original production of The Emperor's New Clothes at the Chicago Shakespeare Theatre. "It's a really smart and funny show, and it's entertaining for both kids and adults….This particular version follows the emperor and the emperor's daughter, so you get the classic story as well as a new perspective. This adaptation focuses on empathy and compassion."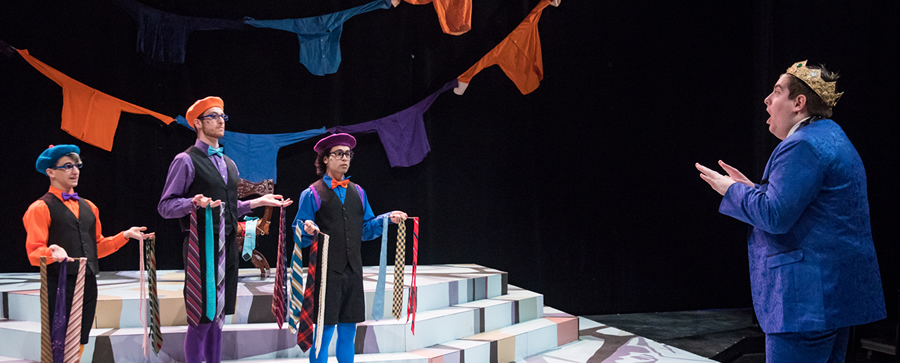 Tanguay, who is also friends with Holstein and Schmuckler, has long loved the musical. "I really hope this sparks dialogue about pride and vanity affecting leadership and how we can all learn to listen more and be compassionate toward each other," she says.
Lynn Kelso, a Northwestern Theatre faculty member who founded Imagine U, currently in its ninth year, said the show is timely.
"We love the idea that it's an adaptation of Hans Christian Andersen's fairy tale, but that we make it work for today," says Kelso. "And the music is wonderful. It tells the story and enhances the story."
Kelso said it's also important for student performers to work with alumni.
"I think the students have this wonderful opportunity to see what a person's journey after school can be. They can get advice on how to weather those dry spells, and how to recognize this is your passion, and you have to keep on your journey," Kelso says. "The faculty tell this to the students but to hear it from those who are five or ten years or even twenty years out makes it more believable."
Tanguay said she gave students hands-on work for the show, including the opportunity to choreograph a number. "It's really about giving them the tools they need to work in the industry," she says.
Schmuckler said seeing students perform the show is very gratifying.
"College is where I discovered how much I loved writing," he says. "Those performance spaces are where I tried out my very first songs—where I started the path that has led me to the tremendously joyful, energizing work I get to do today. Maybe there's a current student who discovers something about how they would like to direct the course of their creative lives while working on my music. That, to me, would be immensely meaningful."
Holstein added that he first collaborated with Schmuckler on the Waa-Mu Show, and they've remained productive partners throughout the years, including collaborating on a Webby award-winning podcast musical Wait Wait Don't Kill Me.
"Northwestern, from day one, was a nurturing environment where we could be as creative as possible with as many opportunities as possible," he says. "I know we both took full advantage of that, and our experience has served us very well in our careers."
Holstein said that The Emperor's New Clothes was a milestone show for them, and that being embraced by audiences helped them take the next step in their professional journey.
"This was our first show in the real world, and I think being accepted by the Chicago theatre scene was a really important part of growing as artists," he says. "Looking back on the show, it makes me proud that Alan and I are still close collaborators."