Stephan Moore
(he/him)
Professor of Instruction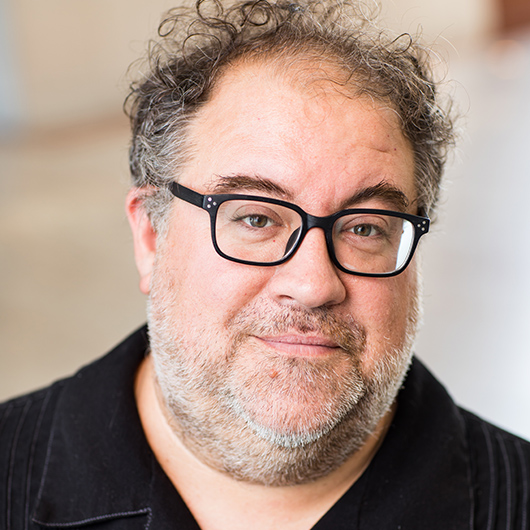 Stephan Moore is a sound artist working at the intersection of performance and interactive systems. His creative work is primarily concerned with the creation and perception of sonic environments, encompassing practices in field recording, physical programming, studio production, audio spatialization, loudspeaker construction and interactive software design. These often-collaborative projects manifest as sound installations, sound designs and scores for dance and theater productions, solo and group performance works and improvisations, generative compositions, and recordings. He is a co-founder of the Chicago Laboratory for Electro-Acoustic Theater, which produces monthly concerts of multi-channel audio at Chicago's Elastic Arts. He is the curator of Sonic Innovations, an annual exhibition of outdoor sound art at the Caramoor Center for Music and the Arts in upstate New York. As a musician and sound engineer, he toured with the Merce Cunningham Dance Company from 2004 to 2010. Moore holds an MFA in Integrated Electronic Arts from Rensselaer Polytechnic Institute, where he studied with and later toured with Pauline Oliveros. He also has a PhD in Computer Music and Multimedia Composition from Brown University. He joined the Department of Radio, Television and Film at Northwestern University in 2015.
Education
PhD, Electronic Music and Multimedia Composition, Brown University
MFA, Electronic Arts, Rensselaer Polytechnic Institute
Selected Works
Honors and Awards
2021 Charles Deering McCormick Professor of Teaching Excellence
2020 Bessie Honoree for the soundtrack to "Last Audience", also honored the the entire creative and production team for Outstanding Production for "Last Audience."
Courses
Introduction to Sound Production
Interactive Sound Design
Sound Design for Videogames
Sound Branding and Product Sound Design
John Cage's "A Dip in the Lake"
Digital Musical Instrument Design
Interactive Sound for Live Events
Interactive Media Programming