Shayna Silverstein
(she/her)
Assistant Professor; Director of Undergraduate Studies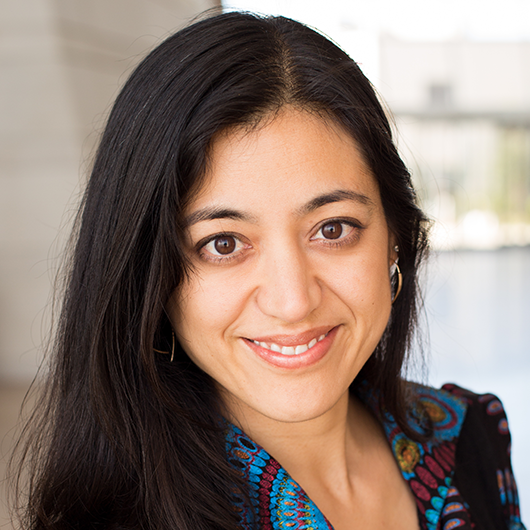 Shayna Silverstein's research examines the politics and aesthetics of sound and movement in the contemporary Middle East. Her first book, Syria's Fraught Balance: The Embodied Politics of Dabke Dance Music, analyzes how Syrian dabke, a popular dance music suffused with the collectivism and cultural memory, has paradoxically contributed to isolation and fragmentation within Syrian society from the formation of the authoritarian nation-state to the recent conflict. She also writes about the politics of body, performance, and culture in the Syrian diaspora.
Silverstein's teaching interests include embodiment, ethnographic methods, ethnomusicology, performance studies, social theory, sound studies, and Middle Eastern studies. Active in several Middle Eastern music ensembles, she plays violin and 'ud, and has also trained extensively in dance and yoga. Silverstein is also a core faculty member in Northwestern's Program in Middle East and North African Studies.
Education
PhD Ethnomusicology, University of Chicago
BA History, Yale University
Publications
Performing Dabke: Popular Culture and Identity in Contemporary Syria, (book manuscript in progress)

"The 'Barbaric' Dabke: Masculinity, Dance, and Autocracy in Contemporary Syrian Cultural Production." Journal of Middle Eastern Women's Studies. 17:2.

"An (Un)Marked Foreigner: Race-Making in Egyptian, Syrian, and German Popular Cultures," co-authored with Darci Sprengel, in special issue "Cultural Constructions of Race and Racism in the Middle East and North Africa" of Lateral, edited by Rayya El Zein.

"Mourning the Nightingale's Song: The Audibility of Networked Performances in Protests and Funerals of the Arab Revolutions." Performance Matters, Vol. 6 (2), 94-111.

"Disorienting Sounds: A Sensory Ethnography of Syrian Dance Music." In Remapping Sound Studies. Edited by James Sykes and Gavin Steingo. Duke University Press.

"On Sirens and Lampposts: Sound, Affect, and Space at the Women's March," Music & Politics, Volume XIII, No. 1.

"The Punk Arab: Demystifying Omar Souleyman's Techno-Dabke." In Punk Ethnography: Artists and Scholars Listen to Sublime Frequencies. Edited by Michael Veal and E. Tammy Kim. Wesleyan, CT: Wesleyan University Press, 2016.
"Public Pleasures: Negotiating Gender and Morality through Syrian Popular Dance." In Islam and Popular Culture. Edited by Karin van Nieuwkerk, Martin Stokes, and Mark LeVine. Austin, TX: University of Texas Press, 2016.
"Cultural Liberalization or Marginalization? The Cultural Politics of Syrian Folk Dance during Social Market Reform." In Syria from Reform to Revolt: Culture, Society and Religion. Edited by Leif Stenberg and Christa Salamandra. Syracuse, NY: Syracuse University Press, 2015.
"Transforming Space: The Production of Contemporary Syrian Art Music." In The Arab Avant-Garde: Music, Politics, Modernity. Edited by Kay Dickinson, Thomas Burkhalter, and Ben Harbert. Wesleyan, CT: Wesleyan University Press, 2013.
"Syria's Radical Dabke." Middle East Report 263 (Summer 2012).
"New Wave Dabke: The Stars of Musiqa Shaʿbiyya in the Levant." Out of the Absurdity of Life. Edited by Theresa Beyer and Thomas Burkhalter. Solothurn, Switzerland: Traversion Press, 2012.
Encyclopedia of 21st-Century Anthropology. "Music and Dance." Edited by Jim Birxh. UK: Sage Press, 2012.
Book Reviews
Review of Noise Uprising: The Audiopolitics of a World Musical Revolution by Michael Denning. Twentieth-Century Music (anticipated 2017)
Review of Modernity's Ear: Listening to Race and Gender in World Music by Roshanak Kheshti. Sounding Out! The Sound Studies Blog (2016).
Review of My Voice Is My Weapon: Music, Politics, and Nationalism in Palestine by David A. McDonald.Political and Legal Anthropology (2015).
Review of The Politics of Love: Sexuality, Gender, and Marriage in Syrian Television Drama by Rebecca Joubin. Journal of Middle East Women's Studies (2015).
Review of Palestinian Music and Song: Expression and Resistance since 1900, edited by Moslih Kanaaneh, Stig-Magnus Thorsen, and David McDonald. Journal of Folklore Research Reviews (2014).
Review of Popular Culture in the Middle East and North Africa, edited by Mounira Solimon and Walid El Hamamsy. Contemporary Islam (2014).
Review of Women, the Recited Qur'an, and Islamic Music in Indonesia, by Anne K. Rasmussen. Journal of Middle East Women's Studies 8:2(Spring 2012).
Review of Maqam and Liturgy: Ritual, Music, and Aesthetics of Syrian Jews in Brooklyn, by Mark L. Kligman. Syrian Studies Association Newsletter XV:1 (2009).
Awards and Grants
Alice Kaplan Institute for the Humanities Faculty Fellowship, 2018-19 

Institute for Citizens & Scholars Career Enhancement Fellowship, 2017 

Andrew W. Mellon Postdoctoral Fellowship, Penn Humanities Forum, University of Pennsylvania, 2013-14
Franke Dissertation Fellowship, University of Chicago, 2010
Fulbright-IIE Fellowship, Syria, 2008
Courses
PerfSt 220: Sound Cultures

PerfSt 304: Sonic Practices of the Middle East and North Africa

PerfSt 312: Yoga: Pedagogy, Practice, and Politics

PerfSt 330: Contemporary Middle Eastern Performance

PerfSt 515: Listening: Methods and Issues

PerfSt 515: Sound Ethnography