Roger Ellis
(they/them)
Assistant Professor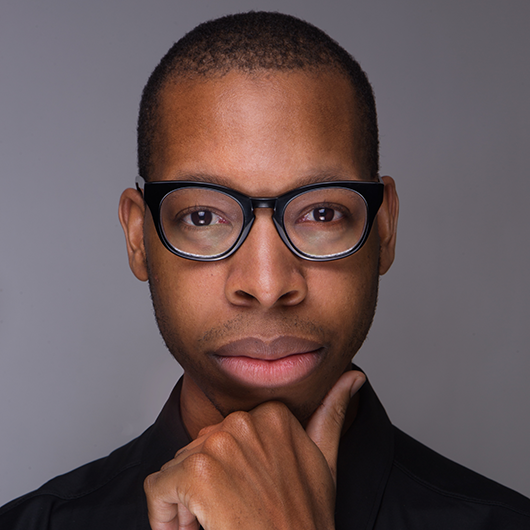 Roger Ellis is a stage director, filmmaker, and producer of experimental projects exploring identity, post-traumatic growth, and the digital. Following a pre-pandemic run in Steppenwolf Theatre Companys LookOut Series, Ellis adapted GET OUT ALIVE into an award-winning film which screened at the Pan African Film and Arts Festival, Melbourne Lift-Off Film Festival, San Francisco's Decibels Music Film Festival, and other international film festivals. In addition, Ellis recently co-directed a reimagined immersive production of GET OUT ALIVE by Nikki Lynette at Haven Chicago.
Ellis' research centers on physical inquiry and embodiment in performance. They have created work in New York, Chicago, Atlanta, and across the United States with Steppenwolf Theatre Company's LookOut Series, Haven Chicago, Sacramento Music Circus, Paramount Theatre, American Music Theatre Project, Horizon Theatre Company, Aurora Theatre, Lyric Theatre of Oklahoma, Tuacahn Center for the Arts, San Diego Repertory, Gallery Players Brooklyn, and others. In addition, Ellis' movement design for the digital theatre project AntigoneNOW made its world premiere at the 27th Cairo International Festival for Experimental Theatre.
Ellis is an Assistant Professor in the Department of Theatre at Northwestern University. At NU, they are a member of the musical theatre and dance faculty and lead the movement sequence for the MFA Acting program. Ellis also serves on the advisory board of the Black Arts Consortium and is co-curator of the Kelsey Pharr Jr. Speaker Series. This initiative creates opportunities for the Northwestern community to engage with leading artists of color in musical theatre. Previous artists have included Jess McLeod, Lili-Anne Brown, Brian Quijada, and Rona Siddiqui. Ellis also served as an organizer of Pulitzer Prize-winning writer Michael R. Jackson's Hope Abelson Artist Residency.
Ellis teaches courses in acting through song and movement for the stage, drawing influence from their extensive study of the Six Viewpoints with Mary Overlie, the Lucid Body with Fay Simpson, and Developmental Technique with Erika Berland and Wendell Beavers. In the classroom, Ellis guides emerging artists in developing sustainable artistic practices that balance autonomy and collaboration. Before joining the Northwestern faculty, Ellis taught movement for the stage, acting through song, musical theatre scene study, music theatre dance, and collaborative devising process at Marymount Manhattan College, the University of the Arts Summer Institute, and NYC's Professional Performing Arts School. In addition, Ellis has taught guest workshops at Boston University, Dell' Arte International School of Physical Theatre and has been a guest speaker at the School of Sound (UK), Victorian College of the Arts at the University of Melbourne, and the August Wilson Society Colloquium at Howard University.
Ellis holds an MFA in Musical Theatre from San Diego State University, a BA in Theatre Performance from Oklahoma City University, and is a designated teacher of The Lucid Body. Ellis is the recipient of the National Alliance of Acting Teachers' Earle Gister Fellowship (2019) and is a member of the Actors' Equity Association, the Stage Directors and Choreographers Society (Associate), and the National Alliance of Acting Teachers.
Education
MFA, Musical Theatre, San Diego State University
BA, Theatre Performance, Oklahoma City University
Awards, Grants and Honors
2022 Best First Feature Narrative Nominee, Pan-African Film Festival, Los Angeles – Get Out Alive
2022 COVID-19 Research Recovery Grant Recipient, Northwestern University
2021 Best Feature Nominee, Bronzelens Film Festival – Get Out Alive 
2021 Best First Time Filmmaker, Chicago Indie Film Awards – Get Out Alive
2020 Associated Student Government Faculty Honor Roll, Northwestern University
2019 Earle Gister Fellowship, National Alliance of Acting Teachers
Recent Publications
"Tools for Adaptation – Physical Dramaturgy" by Roger Ellis. Writing Adaptations and Translations for the Stage by Alison Horsley and Jacqueline Goldfinger, Routledge, 2022

"Unity over Unison: Creating AntigoneNOW in Lockdown" - A Conversation between Margaret Laurena Kemp, Sinéad Rushe, and Roger Ellis; moderated by Dassia N. Posner. Theatre Topics, 2021

"Teaching Performing Arts During the Pandemic" An Essay by Tracy Davis. Howlround, 2021
Conference Presentations
Literary Managers and Dramaturgs Association International Conference – Philadelphia, PA, 2022
Paper Presentation: "Theatre as Social Media"

August Wilson Society Colloquium – Howard University, 2021
Workshop Presentation: "Towards a Physical Dramaturgy of August Wilson" 

Directors Lab North – Toronto, Ontario, Canada, June 2020
Workshop Presentation: "The Director's Body in Rehearsal"
Association for Theatre in Higher Education – Music Theatre/Dance Focus Group, Quarantine Colloquium, June 1, 2020
Paper Presentation: "Physical Dramaturgy as a Critical Lens for Analyzing Fun Home"
Association for Theatre in Higher Education Conference, July 2020
Paper Presentation: "Airplane as a Metaphor for Resilience in Fun Home."
Workshop Presentation: "Movement as Text/Text as Movement?"
Multimedia Presentation: "Disruptive Logics of Identity: Casting Presence in Fun Home"