Roger Ellis
(they/he)
Assistant Professor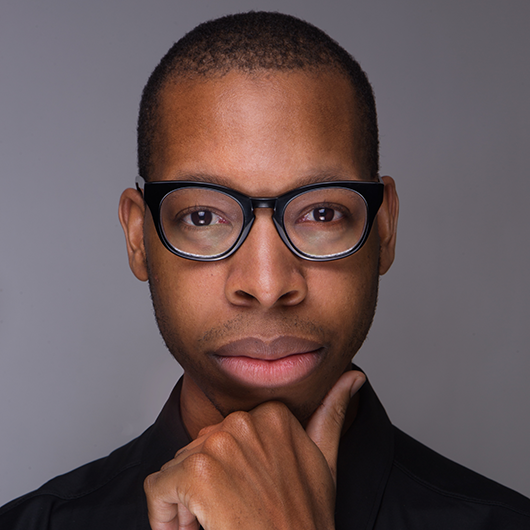 Roger Ellis (they/he) is a movement designer/director working across screen, motion, and stage. Current projects include the docu-musical series Happy Songs About Unhappy Things (co-director), the augmented reality sound installation Interstitial (creator-director), and the series Emergency Contact (creator-director). 
Professor Ellis is the original director of Nikki Lynette's afrogoth musical Get Out Alive (Steppenwolf, National Alliance for Musical Theatre, film adaptation). Ellis' film work has screened internationally at festivals such as Black Harvest (Gene Siskel Center), Melbourne Lift-off (Australia), School of Sound (London, UK), San Francisco IndieFest's Decibels Music Film Festival, African Diaspora International Film Festival (NYC), and African Diaspora Arts and Film Festival (Los Angeles). Stage work includes Ephemera by Deborah Black, Sophia Treanor, and Mary Overlie (Particalist/Dancer - Clurman MAD series at Stella Adler NYC), The Curious Incident of the Dog in the Night-Time (movement director - Horizon Theatre/Aurora Theatre), and AntigoneNOW (movement designer - Cairo International Festival for Experimental Theatre). Roger has worked across the US with Sacramento Music Circus, American Music Theatre Project, California Center for the Arts, Lyric Theatre of Oklahoma, Tuacahn Center for the Arts, Paramount Theatre, and San Diego Repertory. 
Ellis is a classically trained actor-singer-dancer turned post-conceptual movement artist interested in synthesizing voice, movement, and identity in contemporary performance. Ellis explores the interplay between the synthetic and somatic through the mixed reality of Black-queer-aspec experience. The conceptual grit of Ellis' work is anchored in xenoqueer and xenofeminist theory. Ellis has undergone extensive study with Fay Simpson (Lucid Body), Stephen Wangh (Acrobat of the Heart, Grotowski), Mary Overlie, Deborah Black, Sophia Treanor (Six Viewpoints, Hamilton Technique), Wendell Beavers (Developmental Movement), and Erika Berland (Experiential Anatomy). MFA San Diego State University; BA Oklahoma City University; and certified Lucid Body Teacher. Ellis is an Assistant Professor in the Department of Theatre at Northwestern University where they teach courses in movement, psychophysical acting, music theatre, and directing. Since 2018, Roger has been the head of the movement area for Northwestern's MFA Acting Program. 
Professor Ellis is a member of Actors' Equity Association (AEA), Stage Directors and Choreographers Society (SDC), and National Alliance of Acting Teachers (NAAT).