Ozge Samanci
(she/her)
Associate Professor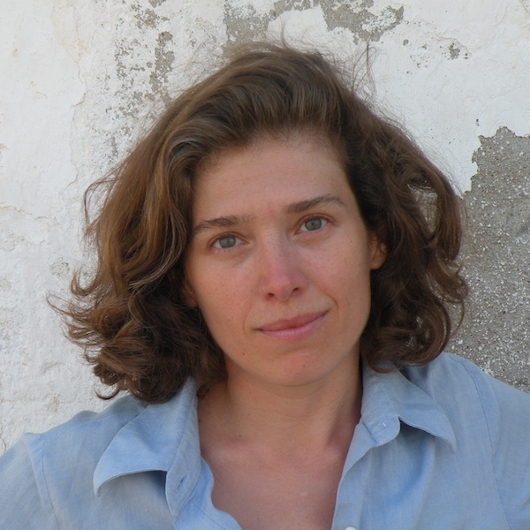 Ozge Samanci is a media and comic artist. Her areas of interest include interactive media art, installation art, virtual reality storytelling, interaction design, full-body interaction, location-based art, comics and graphic novels. Her recent interactive art installations have roots in the natural sciences and explore the tendency of human beings to perceive themselves above all ecosystems.
In 2017 she received the Berlin Prize from the American Academy in Berlin. Her interactive installations have been exhibited in numerous venues internationally including Siggraph Art Gallery, FILE festival, Currents New Media, The Tech Museum of Innovation, WRO Media Art Biennial, Athens International Festival of Digital Arts and New Media, Piksel Electronic Arts Festival, ISEA and numerous other art galleries.
Her autobiographical graphic novel Dare to Disappoint (Farrar Straus Giroux, 2015) received international press attention and was positively reviewed in The New York Times, The Guardian, Slate along with many other media outlets. Dare to Disappoint has been translated into five languages. Her drawings appeared in The New Yorker, The Wall Street Journal, Slate Magazine, The Huffington Post, Airmail, Guernica, The Rumpus.
Education
PhD, Digital Media, Georgia Institute of Technology
MA, Communication Studies, Ohio University
MA, Film and Television, Istanbul Bilgi University
BA, Mathematics, Bogazici University
Works
VastWaste

, 2022, Data-driven Projection Art and VR installation
Publications
Books
(Upcoming), 2023 Fall, Evil Eye Graphic Novel, Uncivilized Books
2015, Dare to Disappoint (autobiographical graphic novel), MacMillan: Farrar Straus and Giroux
2004, Animasyonun Onlenemez Yukselisi (The Irresistible Rise of Animation), Istanbul Bilgi University Publications, Istanbul
Book Chapter
2015, Earthquakes in Film: Exploring Visual Strategies, In Film on the Faultline, Edited by Alan Wright, Intellect Press.
Journal Articles
2019, Ozge Samanci, Adam Snyder, Gabriel Caniglia, Fiber Optic Ocean, SIGGRAPH '19 Art Papers in Special Issue of Leonardo, MIT Press.
2018, Ozge Samanci, Gabriel Caniglia, You are the Ocean, SIGGRAPH '18 Art Papers in Special Issue of Leonardo, MIT Press.
2018 Ozge Samanci, Adam Snyder, Fiber Optic Ocean, Merging Media for Data Representation, VISAP 16-17 Special Issue, Leonardo Journal, MIT Press.
2015, Fast Forwarding through Turkey's Last Ten Years with Ordinary Things, Journal of the Ottoman and Turkish Studies Association 2.2 (2015): 307-334.
2014, Embodied site-specific animation, Convergence: The International Journal of Research into New Media Technologies 20.1 (2014): 14-24.
2011, From Site-specific Comics to Location-based Comics: Ordinary Things, Planting Comics, The Journal of the International Digital Media and Arts Association (2011): 25.
2006, Lynda Barry's Humor: At the Juncture of Private and Public, Invitation and Dissemination, Childish and Professional, International Journal of Comic Art 8.2 (2006): 181-199.
Peer Reviewed Conference Papers –Published by Association for Computing Machinery (ACM) Machinery (ACM) Press and IEEE Xplore—-
2019, Ozge Samanci and Gabriel Caniglia, You are the Ocean: Interactive Installation, C&C '19 Proceedings of the 2019 on Creativity and Cognition pp. 414-421
2017, Ozge Samanci, Adam Snyder, Fiber Optic Ocean: Merging Media for Data Representation, IEEE VIS, VISAP 2017, IEEE Xplore
2014, Ozge Samanci, Blacki Li Rudi Migliozzi, Daniel Sabio, Plink Blink: Collaborative Music Production via Blinking Eyes, In Proc. Advances in Computer Entertainment (ACE'14), ACM Press.
2014, Ozge Samanci, Impact of Digital Media on Comics. In Proc. SIGGRAPH'14, ACM Press
2012, Ozge Samanci, Anuj Tewari. Expanding the Comics Canvas: GPS Comics. In Proc. Fun and Games Conference, In Proc. Fun and Games (FnG'13), ACM Press, 27-34.
2010, Ozge Samanci and Anuj Tewari, GPS Comics: Seeing thru Walls. In Proc. SIGGRAPH'0 Posters (single page publication), ACM Press.
2008, Aimee Rydarowski, Ozge Samanci, and Ali Mazalek, Murmur: Kinetic Relief Sculpture, Multi-Sensory Display, Listening Machine. In Proc. Tangible and Embedded Interaction (TEI'08), ACM Press, 231-238.
2007, Ozge Samanci, Yanfeng Chen, and Ali Mazalek, Tangible Comics: A Performance Space with Full-body Interaction, In Proc. Advances in Computer Entertainment (ACE'07), ACM Press, 171-178.
Recent Awards and Honors
2020, The Ivan Allen College of Liberal Arts Distinguished Alumni Award, Georgia Institute of Technology
2017, Berlin Prize, American Academy in Berlin
2016, Dare to Disappoint, Middle East Book Award
2016, Dare to Disappoint, 30th Annual New York Book Show
2015, Clarence Simon Award for Teaching and Mentoring
Awards and Honors
2020, The Ivan Allen College of Liberal Arts Distinguished Alumni Award, Georgia Institute of Technology
Courses
Critical Making

Drawing for Media

Virtual and Alternate Reality Storytelling

Computer Code as Expressive Medium