Linda Roethke
Professor; Director, MFA in Stage Design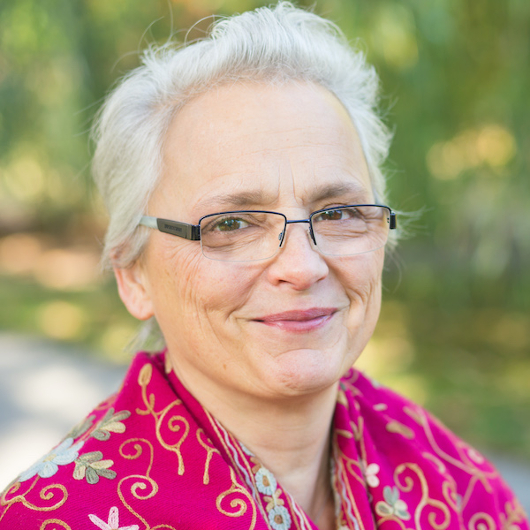 Linda Roethke's teaching centers on costume design, freehand drawing, and fabric modification. She maintains a freelance career as a professional costume designer, member of USAA, and as a studio artist.
National credits include My Fair Lady (Cincinnati Playhouse), My Fair Lady, Proof, Spinning into Butter (The Repertory Theatre of St. Louis); Mrs. Warren's Profession, The Underpants, The Fourth Wall, My Fair Lady, Shadowlands, Spinning into Butter, A Beast on the Moon, and How I Learned to Drive (Alliance Theatre); Quake, An Allegory of Whiteness, Wonderful World (Actor's Theatre of Louisville); A Flea in Her Ear, Cymbeline (Utah Shakespearean Festival); >The Gin Game, Godspell (Center Stage); Beholder (West Coast Playwright's).
Chicago credits include Intimate Apparel and I Never Sang for My Father (Steppenwolf); Hecbua (Chicago Shakespeare): Arcadia, The Romance Cycle (Cymbeline and Pericles), The Dead, Hay Fever, Little Foxes, An Ideal Husband,(Jeff Award winner), Old Times, On the Verge (Court Theatre); The Clean House, Schoolgirl Figure, A Pirate's Lullaby (The Goodman Theatre); The Tempest, King Lear, Macbeth, Richard III (Shakespeare on the Green), The Long Christmas Ride Home, Henry V, Almost Blue, Macbeth, and Love's Labour's Lost (The Next Theatre); and The Red Planet (Adler Planetarium film).
Roethke has directed national and international workshops in costume design, drawing, and rendering. Gallery exhibits of her studio work include the Louise Grayson Gallery and Curator's Choice: Around the Coyote.
Education
MFA, Theatrical Design, University of Iowa
BS, Double Major in Art (Painting and Drawing) and Theatre, University of Wisconsin-Platteville
Recent Awards and Honors
1992, Distinctive Alumni, University of Wisconsin-Platteville
1998, Jeff Award, Best Costume Design, An Ideal Husband, The Court Theatre
1999, Best Costume Design Citation, AA Little Night Music, Connecticut Reparatory
2006, Suzi Bass Nomination, Best Costume Design, The Underpants, The Alliance
Courses
241-2: Design Process: Costume design I
242-0: Stage Makeup
344-0: Costume Design II
357-1,2: Freehand Drawing for the Stage Designer<
361-0: Textile Arts and Crafts for the Costume Designer
464-1,2,3: Advanced Studies in Costume Design