Joe F. Khalil
Associate Professor in Residence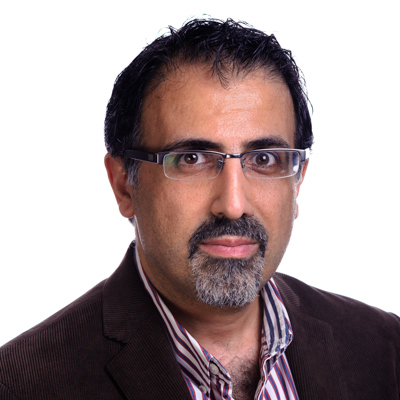 An expert on Arab television production and programming, Joe Khalil has more than fifteen years of professional experience as director, executive producer, and consultant with major Arab satellite channels (Orbit, MBC, MTV, CNBC Arabiya) and has conducted workshops on behalf of USAID, IREX, USIP, and the University of Pennsylvania. He has extensive academic and professional experience in television entertainment and news development and production. He has engaged in professional work and research in more than ten countries, including the U.S., Italy, Saudi Arabia, Lebanon, and the United Arab Emirates. Khalil's scholarly interests revolve specifically around Arab youth, alternative media, and global media industries.
As a consultant, Khalil has conducted or supervised corporate research related to production and programming. He has authored a policy monograph on Arab satellite entertainment television and public diplomacy and is also a co-author of Arab Television Industries (Palgrave Macmillan, 2009, with Marwan Kraidy). He is currently working on a book project, based on his dissertation, Youth-Generated Media in Lebanon and Saudi Arabia, which examines young people's alternative media use across the Arab world.
Proficient in English, French, and Arabic, Khalil is a regular expert guest on media programs on al-Jazeera International and the BBC; he has also given interviews to The New York Times, The >Financial Times, The Guardian, and >The Daily Star, among others.
Areas of Expertise: Global Media Industries; Arab Media; Arab Youth Media; Alternative Media (social media, social movements media, history of activist media); Television History, Production and Programming
Areas of Competence: Producer/Director Training; TV Program Development; News Production and Management; Arab Media Market Analysis
Education
PhD, Mass Communication & Media Arts, Southern Illinois University
MA, Telecommunications, Ohio University
BA, Mass Communication, Notre Dame University
Fellowships, Grants, and Awards
Qatar National Research Fund (QNRF), grant part of the Conference & Workshop Sponsorship Program (CWSP) for conference titled "Fresh Global Media Players: Redistributing Media Power?" – 2014-2015
The Arab Council for Social Sciences, grant part of research program on "Producing the Public: Space, Media, Participation" – Research project "Mainstreaming Youth Media" –2013-2015
Visiting Research Fellow, London School of Economics, London, United Kingdom – May 2012 – August 2014
Smith Richardson Foundation, grant applied towards the research and publication of a monograph "Arab Satellite Television Entertainment: Opportunities for Public Diplomacy" 2008
Excellence Through Commitment Outstanding Graduate Research Award, Southern Illinois University, 2008
Festival Fellow, Finger Lakes Environmental Film Festival, Ithaca – March 30 – April 6, 2006
Courses
Production Research
Television program development
Creating the Webseries
Cityscapes (experimental film theory/production)
Arab Television Industries
Theories of Mediated Communication
Youth Cultures in the Middle East
Alternative Media in the Middle East
Alternative Media in a Diverse Society
Exploring Global Media
Television Producing and Directing
Corporate Video and Commercial Production
Production Management for Television and Film