Hamid Naficy
Professor Emeritus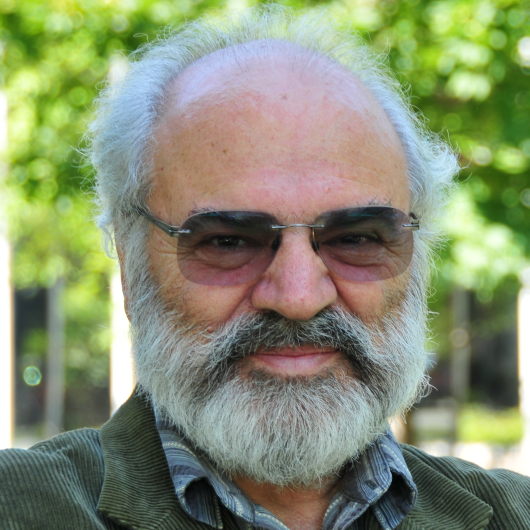 Hamid Naficy is a leading authority in cultural studies of diaspora, exile, and postcolonial cinemas and media, and of Iranian and Middle Eastern cinemas and media. His areas of research and teaching include these topics as well as documentary and ethnographic cinemas. He has published nearly a dozen books (some award-winning) and scores of book chapters and journal articles. In addition, he has lectured widely, nationally and internationally, and his works have been cited and reprinted extensively and translated into many languages. Naficy has also produced many educational films and experimental videos and participated in major international film festivals, curated film series, and initiated the annual Iranian film festivals in Los Angeles in 1990 and in Houston in 1992.
Naficy is the namesake for the The Hamid Naficy Book Award, which is granted biennially by the Association for Iranian Studies on behalf of the Center for Iranian Diaspora Studies at San Francisco State University. Established in 2021, this award acknowledges and supports scholarship in the emerging field of Iranian Diaspora Studies and honors the pioneering work of Dr. Hamid Naficy whose critical work on Iranian media and exiles and diaspora subjects in Los Angeles has laid the foundation for new research on the global Iranian diaspora. Dr. Naficy's scholarship in media and film, both in Iran and in the diaspora, have been hugely important to a generation of scholars. AIS is now calling for nominations for books published between 2019-2021. The first Hamid Naficy Book Award will be presented at the thirteenth AIS Biennial Conference, August 2022 in Salamanca, Spain.
Education
PhD Critical Studies of Film and Television, UCLA
MFA Film and Television Production, UCLA
BA Telecommunications, University of Southern California
Books Published
A Social History of Iranian Cinema. Duke University Press, 4 volumes (2011-12)
Volume 1: The Artisanal Era, 1897–1941
Volume 2: The Industrializing Years, 1941–1978
Volume 3: The Islamicate Period, 1978–1984
Volume 4: The Globalizing Era, 1984–2010
An Accented Cinema: Exilic and Diasporic Filmmaking. Princeton Univ. Press, 2001.
Home, Exile, Homeland: Film, Media, and the Politics of Place. Routledge, 1999.
The Making of Exile Cultures: Iranian Television in Los Angeles. University of Minnesota Press, 1993.
Otherness and the Media: The Ethnography of the Imagined and the Imaged. Harwood, 1993 [co-editor with Teshome Gabriel].
Iran Media Index. Greenwood Press, 1984.
Film-e Mostanad [Documentary Film]. Tehran: Free University of Iran Press, 1978-79. A two-volume, world history of nonfiction cinema, used as textbook in university film classes.
Recent Chapter Publications
Iranian Postrevolution Cinema: A Rising Global Cinema. A printed 63-page booklet based on my keynote talk at International Institute of Social History for Sadighi Annual Lectures. Amsterdam, The Netherland: International Institute of Social History, 2016.
"The Politics and Poetics of Iranian Art-House Cinema," Inside the Islamic Republic: Social Change in Post-Khomeini Iran. Edited by Mahmood Monshipouri. London: Hurst & Company, 2016. Pp. 201-219.
"Lured by the East: Ethnographic and Expedition Films about Nomadic Tribes—the Case of Grass (1924), reprinted in The Documentary Film Reader: History, Theory, Criticism, Jonathan Kahana, editor. New York: Oxford University Press, 2016, pp. 93-109.
"Branch-Campus Initiatives to Train Media-Makers and Journalists: Northwestern University's Branch Campus in Doha, Qatar," in The Education of the Filmmaking in Africa, the Middle East, and the Americas. Edited by Metter Hjort. London: Palgrave, 2013. Pp. 81-98.
"Embodied Protest," in Mitra Tabrizian: Another Country. Ostfildern, Germany: Hatje Cantz Verlag. 2012. Pp. 16-20.
"Accented Filmmaking and Risk taking in the Age of Postcolonial Militancy, Terrorism, Globalization, Wars, Oppression, and Occupation," in Film and Risk. Edited by Mette Hjort. Wayne State University Press, 2012. Pp. 143-164.
"Teaching Accented Films as a Global Cinema," in Teaching Film. Edited by Lucy Fischer and Patrice Petro. Modern Language Association Publication, 2012. Pp. 112-118.
"Neorealism Iranian Style," in Global Neorealism: The Transnational History of a Film Style. Edited by Saverio Giovacchini and Robert Sklar. University Press of Mississippi. 2012. Pp. 226-239.
"Situando o Cinema com Sotaque," in Cinema, Globalização e Interculturalidade. Edited by Andreá França and Denilson Lopes. Brazil: EditoraArgos. 2010. Pp. 137-161.
"From Accented Cinema to Multiplex Cinema," in Convergence Media History. Edited by Janet Staiger and Sabine Hake. Routledge, 2009. Pp. 3-13.
"Faster than a Speeding Bullet, More Powerful than a Locomotive—Mutual Instrumentalization of Culture, Cinema, and Media by Iran and the U.S.," in Media, Power, and Politics in the Digital Age: The 2009 Presidential Election Uprising in Iran. Edited by Yahya R. Kamalipour. Rowman & Littlefield Publishers. 2010. Pp. 205-220.
"Iranian Émigré Cinema as a Component of Iranian National Cinema," in Media, Culture and Society in Iran: Living with Globalization and the Islamic State. Edited by Mehdi Semati. Routledge, 2008. Pp. 167-192.
"Ethnography and African Culture: Jean Rouch on LaChasse au Lion àl'Arc and Les Maîtres Fous," in Building Bridges: The Cinema of Jean Rouch. Edited by Joram ten Brink. Wallflower Press. 2007. Pp. 97-108.
"On the Global Inter-, Multi-, and Trans- —Foreword," in Projecting Migration: Transcultural Documentary Practice. Edited by Alan Grossman and Aine O'Brien. Wallflower. 2007. Pp. xiii-xv.
"Theorizing 'Third World' Film Spectatorship: The Case of Iran and Iranian Cinema," in Genre, Gender, Race, and Global Cinema. Edited by Julie Codell. Blackwell. 2007. Pp. 369-387.
"Palestinian Exilic Cinema and Film Letters," in Dreams of a Nation: On Palestinian Cinema. Edited by Hamid Dabashi. Verso. 2006. Pp 90-104.
"Situating Accented Cinema," in Transnational Cinema, the Film Reader. Edited by Elizabeth Ezra and Terry Rowden. Routledge. 2006, Pp. 111-129.
"Lured by the East: Ethnographic and Expedition Films about Nomadic Tribes—the Case of Grass (1924)," in Virtual Voyages: Cinema and Travel. Edited by Jeffrey Ruoff. Duke University Press. 2006. Pp. 117-138.
"Kiarostami's "Close-Up: Questioning Reality, Realism, and Neorealism," in Film Analysis: A Norton Reader. Edited by Jeffrey Geiger and R. L. Rutsky, W. W. Norton & Co. 2005. Pp. 794-812. 2nd edition, 2013, pp. 846-864.
"Spazi Fobici e Panici Liminali: Il genre cinematografico independente transnazionale," in Frontiere: Il cinema e le narrazioni dell'identità: Nazione, sesson, gender, razza tra tradizione e traduzione. Edited and translated into Italian by Federica Giovannelli. Rome: Bulzoni Editore, 2005, pp. 239-268.
"Epistolarity and Textuality in Accented Films," in Subtitles: On the Foreignness of Film. Edited by Atom Egoyan and Ian Balfour. MIT Press, 2004. Pp. 132-151.
Recent Awards and Honors
Recipient of the "Alumnus of the Year" award from the Department of Film, Television and Digital Media, UCLA School of Theater, Film and Television, April 2016.
The Persian translation of my book, A Social History of Iranian Cinema: Volume 1: The Artisanal Era, 1897–1941, by Mohammad Shahba, entitledTarikh-e Ejtemai-ye Sinema-ye Iran, volume 1, Tolid-e Kargahi (1276-1320), won the "best translation" cinema book award at the 5th Annual Cinema Book Awards in Tehran, Iran, in February 2016. The award is organized by the Iranian House of Cinema.
Winner of the Middle Eastern Studies Association's Houshang Pourshariati Iranian Studies Book Award for A Social History of Iranian Cinema, 2012.
Winner of Honorable Mention, Katherine Singer Kovács Book Award, Society for Cinema and Media Studies, for A Social History of Iranian Cinema (volumes 1-3), 2012.
Faculty Affiliate, Alice Kaplan Institute for the Humanities, Northwestern University, 2012-2013.
Faculty Associate, Equality Development and Globalization Studies, Northwestern University, 2012-2013.
Sheikh Hamad bin Khalifa Al Thani Professor in Communication, Northwestern University, 2009-present.
Inaugural Virginia Film Festival Fellow, University of Virginia, Charlottesville, Fall 2008. Contributed to curating the festival films, taught a week-long one-credit master class at University of Virginia, interviewed several international directors on stage and moderated the post-film Q & A sessions with them www.vafilm.com/press/2008/09/02/theyre-out-thre-or-are-they/.
John Evans Professor of Communication, Northwestern University, 2006-9
American Council of Learned Societies, Social Science Research Council, and National Endowment for Humanities International and Area Studies Fellowship, 2004-2005.
Courses
RTVF 403-0 Media Cultural Theory – Ethnographic Documentary
RTVF 426-0 Global Media –Transnational and Accented Cinema
RTVF 584 Research Seminar – Iranian Art House Cinema
RTVF 351-0 National Cinema – Middle East and North African Cinema
RTVF 398-0 Issues in RTVF: Post-Colonial Cinema
RTVF 321-0 Radio/TV/Film Authorship – Kubrick/Scorsese