Exal Iraheta
Assistant Professor of Instruction/Academic Advisor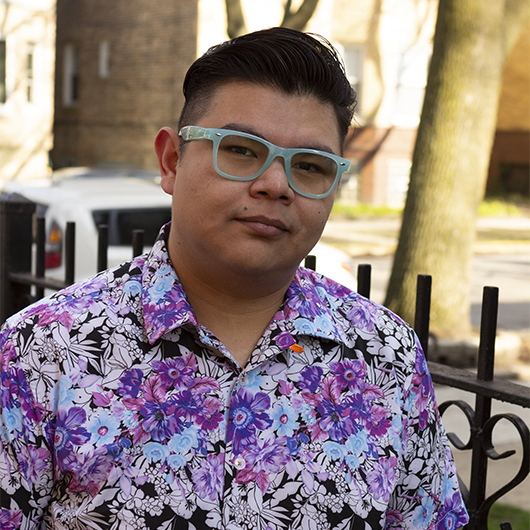 Exal Iraheta (he/his) advises undergraduate theatre and performance studies students. He is a Chicago-based Salvi-American playwright & screenwriter by way of Houston, Texas. Sometimes humorous and often uncomfortable, his work explores the intersections of belonging, family, queerness, violence, and sexuality.
Exal is a 2020/2021 Goodman Theatre's Playwrights Unit member and a selected playwright in the 2018 Fornés Playwriting Workshop. In 2019 his play They Could Give No Name was chosen for Victory Gardens' Ignition Festival and an honorable mention in the American Playwriting Foundation's 2019 Relentless Award. They Could Give No Name was also a finalist in the 2020 National Playwrights Conference and the 2020 Judith Royer Excellence in Playwriting Award. Additionally, his play Rules of a Closed Door was a semi-finalist of Western Michigan University's Activate: Midwest New Play Festival. It also received an excerpt reading at The Goodman Theatre.
Exal's filmmaking and screenwriting have brought him to work with several artists and organizations as an instructor, videographer, assistant director, and video editor. His original TV pilots have received staged readings at the late iO Theater, Annoyance Theatre, and The Crowd Theater and have placed in competitions.
Exal earned an MFA from Northwestern University's Writing for the Screen and Stage program and a BFA from the School of the Art Institute of Chicago in Film & Video Production.