Elizabeth W. Son
Associate Professor; Area Head, Theatre History/Literature/Criticism/Theory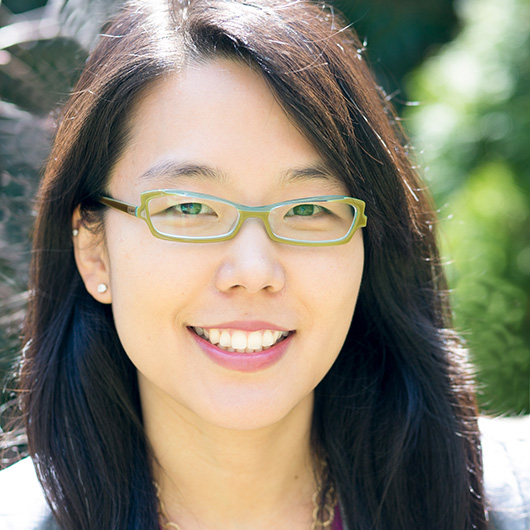 Dr. Elizabeth Son's research and teaching are at the intersections of theatre and performance studies, Asian American studies, Asian diasporic studies, and gender and sexuality studies. Her research focuses on the relationship between histories of gender-based violence and transnational Asian & Asian American performance-based art and activism. She teaches courses on race, gender, and culture; trauma, memory, and violence; and theatre and social change in U.S. and transnational contexts.
Based on extensive archival and ethnographic research, Son's award-winning book Embodied Reckonings: "Comfort Women," Performance, and Transpacific Redress (2018) examines the political and cultural aspects of contemporary performances (protests, tribunals, theatre, and memorial building) in South Korea, Japan, and the United States that have grappled with the history of Japanese military sexual slavery. She is working on a book titled Holding Histories on contemporary Korean diasporic women's aesthetic practices in relation to social and political violence. Her essays have appeared in Asian Theatre Journal, Theatre Survey, Theater, e-misférica, Oxford Research Encyclopedia of Literature, Race and Performance After Repetition, and The Routledge Companion to Theatre and Performance Historiography. She also writes op-eds, which have appeared in such publications as the Los Angeles Review of Books and The Hill.
Son's work has been recognized with national fellowships from the American Council of Learned Societies, Andrew W. Mellon Foundation, Fulbright Program, and the Institute for Citizens & Scholars (formerly known as the Woodrow Wilson National Fellowship Foundation). Her first book received four accolades: the Book Award in Humanities and Cultural Studies (Visual, Performance, and Media Studies) from the Association for Asian American Studies; the Bonnie Ritter Outstanding Feminist Book Award from the National Communication Association, Feminist and Gender Studies Division; the Outstanding Book Award from the Organization for the Study of Communication, Language, & Gender; and Finalist for the George Freedley Memorial Award from the Theatre Library Association. She is also the recipient of the Florence Howe Award for Outstanding Feminist Scholarship from the Women's Caucus for the Modern Languages, an allied organization of the MLA, and Honorable Mention for the Gerald Kahan Scholar's Prize from the American Society for Theatre Research. Her teaching has been recognized with the Clarence Simon Award for Outstanding Teaching and Mentoring and the Karl Rosengren Faculty Mentoring Award at Northwestern University.
Son is affiliated faculty in the Program in American Studies, Asian American Studies Program, Gender & Sexuality Studies Program, and the Department of Performance Studies. Son is also on the editorial board for Theatre Survey and the series co-editor (with Wendy Arons and Melissa Blanco Borelli) of Women's Innovations in Theatre, Dance, and Performance (Bloomsbury). 
Through community outreach, education, and political actions—Son, as an ally, also works with local organizations to advocate for gender-based justice, equity, and empowerment. As an inaugural Mellon/ACLS Scholars & Society fellow, she was a scholar-in-residence at KAN-WIN: Empowering Women in the Asian American Community, merging her interests in social justice and the public humanities. In partnership with KAN-WIN and Awakenings, she was also a member of the curation team for the art exhibit "Embodying Justice." Son continues to partner with KAN-WIN as a co-founding member of their "comfort women" justice advocacy team.
Education
PhD American Studies, Yale University
MPhil American Literature, University of Cambridge
BA English, Wellesley College
Select Awards and Fellowships
Bonnie Ritter Outstanding Feminist Book Award, National Communication Association, Feminist and Gender Studies Division, 2020
Book Award in Humanities and Cultural Studies (Visual, Performance, and Media Studies), Association for Asian American Studies, 2020
Finalist, George Freedley Memorial Award, Theatre Library Association, 2019
Outstanding Book Award, Organization for the Study of Communication, Language, & Gender, 2019
Scholars & Society Fellowship, Andrew W. Mellon Foundation and the American Council of Learned Societies, 2019
Clarence Simon Award for Outstanding Teaching and Mentoring, School of Communication, Northwestern University, 2018
Karl Rosengren Faculty Mentoring Award, Office of Undergraduate Research, Northwestern University, 2018
Gerald Kahan Scholar's Prize, Honorable Mention, American Society for Theatre Research, 2017
Florence Howe Award for Outstanding Feminist Scholarship, Women's Caucus for the Modern Languages, 2016
Career Enhancement Fellowship for Junior Faculty, Woodrow Wilson National Fellowship Foundation and the Andrew W. Mellon Foundation, 2015
Undergraduate Courses
Performing Asian America
War, Gender, and Memory in Asian American Performance

Asian/Black Connections in Performance

Performance and Politics in Asia
Contemporary Women Playwrights
Theatre in Context
Theatre and Social Change
Theatre and Violence
Graduate Courses
Race and the Body
Violence, Memory, and Performance
Performance and Politics in Asia
Research Methods
Research Design and Prospectus Writing
Public Humanities in Practice