Dassia N. Posner
(she/her)
Associate Professor, Theatre, Slavic Languages and Literatures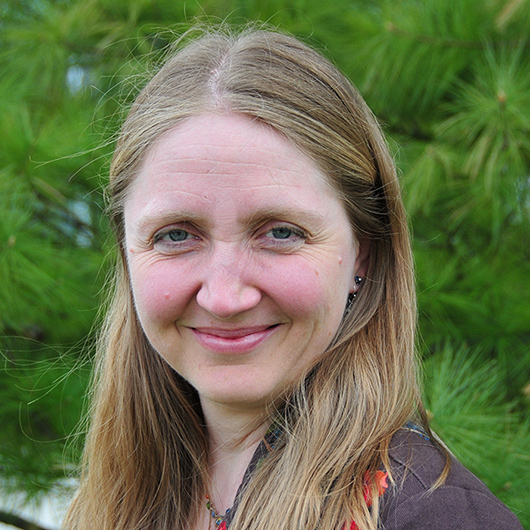 Dassia N. Posner is a theatre historian specializing in experimental Russian and Soviet theatre practice, the history of stage directing, production dramaturgy, and puppetry history and performance. She teaches undergraduate courses in Theatre and Slavic and graduate courses in the MFA in Directing and the Interdisciplinary PhD in Theatre and Drama (IPTD).
Posner's books include The Director's Prism: E. T. A. Hoffmann and the Russian Theatrical Avant-Garde (2019: Shortlist, Prague Quadrennial Best Scenography and Performance Design Publication Award; 2016: Finalist, TLA Freedley Memorial Award); The Routledge Companion to Puppetry and Material Performance (co-edited with Claudia Orenstein and John Bell, 2014); and Three Loves for Three Oranges: Gozzi, Meyerhold, Prokofiev (2021: co-edited with Kevin Bartig and associate editor Maria De Simone; 2022: Honorable Mention, ATHE Excellence in Editing Award; 2022: Finalist, TaPRA Edited Collection Award). Her web-based archive companion to The Director's Prism features over a hundred multimedia Russian theatre sources: www.fulcrum.org/northwestern. Her current book-in-progress is an archival study of the Kamerny Theatre's innovations and international influence in the artistic and political context of the Soviet 1920s and 30s.
Recent creative scholarship includes translating Three Sisters for a film directed by Monika Gossmann and production dramaturgy at Steppenwolf Theatre Company for Seagull, Grand Concourse, Russian Transport, and Three Sisters, for which she was also Tracy Letts's dramaturgical translator. Prior to coming to Northwestern, she was the resident dramaturg at Connecticut Repertory Theatre. She has performed as a puppeteer with First Night Boston, the Children's Free Opera and Dance of New York, Bread and Puppet Theater, Underground Railway Theatre, the Puppeteers' Cooperative, and Luna Theatre.
Education
PhD, Drama, Tufts University
MA, Drama, Tufts University
BA, Theatre and Russian, Bates College
Recent Publications
Books and Digital Humanities
Essays
Awards and Honors
2022: Honorable Mention, Association for Theatre in higher Education Excellence in Editing Award for Three Loves for Three Oranges: Gozzi, Meyerhold, Prokofiev
2022: Finalist, Theatre & Performance Research Association Edited Collection Award for Three Loves for Three Oranges: Gozzi, Meyerhold, Prokofiev
2020: Karl Rosengren Faculty Mentoring Award
2019: Shortlist, Prague Quadrennial Best Performance Design and Scenography Publication Award, for The Director's Prism: E. T. A. Hoffmann and the Russian Theatrical Avant–Garde
2017: Finalist, TLA Freedley Memorial Award for The Director's Prism: E. T. A. Hoffmann and the Russian Theatrical Avant-Garde
2015–2016: Honor Roll for Undergraduate Teaching, NU Associated Student Government
2015: Clarence Simon Award for Outstanding Teaching and Mentoring
2014: Cambridge University Press Prize, American Society for Theatre Research
2013–2014: Honor Roll for Undergraduate Teaching, NU Associated Student Government
Fellowships and Grants
2022: Travis Bogard Artist-in-Residence, Tao House, Eugene O'Neill Foundation
2018-2019: CHCI-ACLS Fellow, Alice Kaplan Institute for the Humanities
2016: Alumnae of Northwestern Academic Enrichment Grant
2014–2015: Faculty Fellow, Alice Kaplan Institute for the Humanities
2012–2015: Undergraduate Research Assistant Program grants
2014: Summer Stipend Award, National Endowment for the Humanities
Classes
History of Directing
Production Dramaturgy
Puppetry History and Performance
Russian and Soviet Avant-Garde Theatre
History of Theatrical Practice
Play Analysis
Research Design and Prospectus Writing