Danielle Beverly
Assistant Professor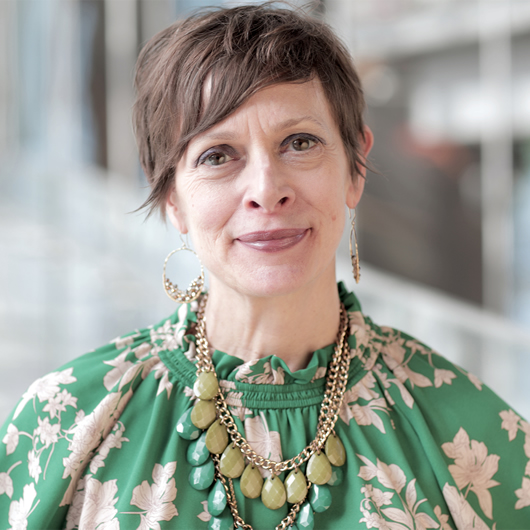 Danielle Beverly is an independent documentary filmmaker who works as a one-person crew. She is currently completing post-production on Qatar Stars, a four-year observational documentary she filmed in the Middle East about a multi-national girls-only rhythmic gymnastics school in Doha, Qatar. It will be released in 2023 and is co-produced by Jawaher AlMoawda.
In her 2019 feature documentary Dusty Groove: The Sound of Transition, a Chicago used-vinyl buyer walks us into the homes—and stories—of strangers, digging through their jazz, soul, and hip hop records, buying their once-prized possessions. Each seller shares a common reason: they face a major life transition. The documentary is a collection of intimate narratives, akin to a record album of songs, about love, loss, and our deep connection to music. It premiered at SF DocFest, toured The Southern Circuit of Independent Filmmakers, and screened at film festivals and universities in the United States and Europe. It won Best Music Film at The Macon Film Festival, and Best Feature at The South Georgia Film Festival. In-person, grassroots engagement with community audiences is key to Beverly's distribution practice. A grants-funded outdoor film tour in partnership with local independent record stores took the documentary to vinyl fans across Illinois, and to Indiana, South Carolina, and Tennessee in Summer 2021.
Beverly's 2015 feature documentary Old South had its national broadcast on The World Channel/PBS. It was the season four opener of the "America ReFramed" documentary series, airing during African American History Month. It was internationally broadcast in 2020 on Al Jazeera English's "Witness" documentary series. Old South enjoyed a year-long film festival and college tour and screened in outdoor community gardens across NY State and the American South on a DIY "Healing Spaces Tour", funded by Wave Farm & New York State Council on the Arts. It also was selected for The Southern Circuit of Independent Filmmakers. It won the Award of Merit for Documentary from The University Film and Video Association.
Beverly began her career at Chicago's PBS affiliate and has directed and produced content for PBS and cable since 1999. Beverly was field producer for the longitudinal documentary REBIRTH over its ten-year production (Sundance World Premiere 2011; Showtime broadcast; George Foster Peabody Award; screened at The White House, US Department of State film tour; permanent exhibition at National September 11 Memorial & Museum).
Beverly's first documentary feature Learning to Swallow followed a charismatic artist with bipolar disorder as she struggles to rebuild her life after a suicide attempt destroys her digestive system. The film premiered in competition at Silverdocs (2005), screened internationally, and traveled to rural communities on The Southern Circuit Tour of Independent Filmmakers. In March 2015 it was broadcast on PBS' "America ReFramed" series, with an encore national broadcast in July 2017.
Beverly's filmmaking, photography, and digital media work have received funding from The Paul Robeson Fund for Independent Media, The Doha Film Institute, New York State Council for the Arts (NYSCA), The Puffin Foundation, The Illinois Arts Council, The Chicago Cultural and Tourism Fund, The University Film & Video Foundation, The Center for Peacemaking, and The Diederich College Initiative on Communication Ethics, Values and Social Justice. Beverly has received a Flaherty Fellowship, a Mary L. Nohl Artists Fellowship for Established Artists, and a BAVC National MediaMaker Fellowship.
Beverly is also a documentary cameraperson. Projects include Marco Williams' Lonnie Holley: The Truth of the Dirt (Audience Choice Award for Documentary, Macon Film Festival; 2018 national broadcast on AfroPop, and screenings at The National Gallery of Art) and the social issue documentary As Goes Janesville (Independent Lens, national Emmy Award nomination).
Danielle Beverly currently holds a dual appointment as assistant professor at Northwestern University and Northwestern University in Qatar teaching documentary production and documentary theory. She is Core Faculty in the MFA in Documentary Media program in the Department of Radio/Television/Film.
Education
MFA, Film/Video, Columbia College Chicago
BS, Public Health, Indiana University