Clayton Brown
(he/him)
Associate Professor of Instruction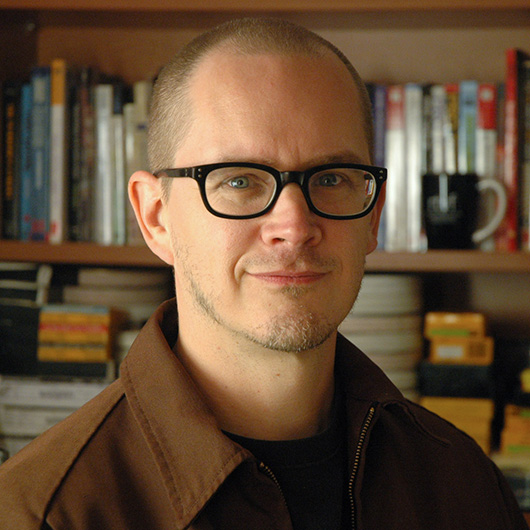 Clayton Brown is a documentary and narrative filmmaker. His last three documentary features, co-directed with Monica Long Ross, were created under the Chicago-based non-profit 137 Films production company he co-founded with Ross. The Atom Smashers, aboutAmerica's search for the Higgs boson, won the Pariscience Audacity award and was broadcast twice on Independent Lens, securing North American distribution with PBS. The Believers, about the controversial 1989 announcement of Cold Fusion, premiered at the Chicago International Film Festival where it won the Gold Hugo for Best Documentary as well as Best Documentary at the Maryland International Film Festival. The Believers is distributed in North America by Gravitas Ventures and internationally by TVS. We Believe in Dinosaurs, Brown and Ross's most recent documentary, is about the building of a life-sized Noah's Ark by the Creation Museum in northern Kentucky as they attempt to prove the Earth is only 6,000 years old. We Believe in Dinosaurs premiered at the San Francisco Film Festival as part of their prestigious "Launch" initiative, where it was picked up for North American distribution by 1091 and international distribution by Cinephil. After an extensive national and international festival run where it garnered Best Documentary at the St. Louis International Film Festival and received a 91% "fresh" rating on Rotten Tomatoes, it was broadcast on Independent Lens. It's currently available on Amazon Prime, iMovies, Vudu, and other platforms. PBS commissioned an additional short documentary from 137 Films on the Bill Nye / Ken Ham debate of 2014 for broadcast in March, 2021.
Clayton's fiction work includes Galileo's Grave, winner of the Chicago IFP Production Fund and Best Short film at the Albany and Lake Michigan Film Festivals. Four other short films, Holly Ridge, Number Six, Cold Launch, and The Darkening Sun, are entering the festival circuit.
Brown is in production on a new documentary feature, Duneland, about life in the heavily polluted areas of East Chicago along the coast of Lake Michigan, where political and environmental corruption led to the building of minority and low-income communities in and around the most toxic areas in the country.
Brown's films have been screened at over 40 film festivals in the US and abroad. His documentaries have been distributed by PBS, Gravitas Ventures, 1091, Cinephil, and TVF and screened on Independent Lens, iTunes, Amazon, Vudu, Xbox, and elsewhere.
Education
MFA, Northwestern University
MA, English, University of Missouri
BA, William Jewell College
Recent Awards, Honors and Grants
2017 Faculty Research Grant, Northwestern University, The Darkening Sun
2013 Best Narrative Short, Albany Film Festival, Galileo's Grave
2012 Best Short Film, East Lansing Film Festival, Galileo's Grave
2012 Gold Hugo for Best Documentary, Chicago International Film Festival, The Believers
2012 Best Documentary, Maryland International Film Festival
2009 Silver Award, Austin International Film Festival, The Atom Smashers
2009 Grant, Arts Fund, The John D. and Catherine T. MacArthur Foundation, 137 Films
2009 Audacity Award, Pariscience Film Festival, Paris, The Atom Smashers
2008 Grant, Illinois Arts Council, 137 Films
2006 IFP Production Fund Winner, Galileo's Grave
2003 Finalist, IFP New York, I Will If You Will
2003 Marshall Filmmaker's Award, Northwestern University
2003 Presidential Fellowship, Northwestern University
Courses
RTVF 476: Advanced Cinematography
RTVF 479: High Definition Cinematography
RTVF 379: Special Effects Cinematography
RTVF 372: Editing
RTVF 379: Color Correction
RTVF 379: Senior Directing
RTVF 378 Motion Graphics