Ariel Rogers
(she/her)
Associate Professor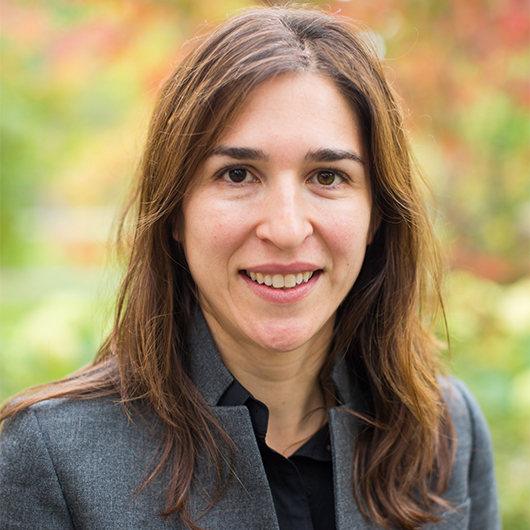 Ariel Rogers's scholarship examines how an attunement to the historical embeddedness of emerging technologies and their users makes it possible to reassess key assumptions about the nature and function of cinema, television, and digital media by illuminating diverse and protean relationships between technology, form, and experience. Writing on topics such as widescreen cinema, digital cinema, special effects, screen technologies, and virtual reality, she is interested in the intersections between history and theory, between form and culture, and between cinema and media studies.
Rogers's first book, Cinematic Appeals: The Experience of New Movie Technologies (Columbia University Press, 2013), explores how the experience of cinema has been conceptualized at different moments of technological change, comparing the recent embrace of digital technologies with transformations that took place the 1950s. Focusing on three cases of technological upheaval—the move to widescreen and 3D systems in the early to mid-1950s, the emergence of digital cinema in the late 1990s and early 2000s, and the coming of digital 3D since 2005—the book contextualizes recent discussions of cinema's shifting ontological and phenomenological status within a longer history in which the experience of cinema has continued to evolve with the industrial, cultural, and intermedial landscape.
Her second book, On the Screen: Displaying the Moving Image, 1926-1942 (Columbia University Press, 2019), harnesses the sense of upheaval associated with the current proliferation of screens by employing the screen itself as a matrix through which to rethink the history and historiography of cinema as well as the theorization of the cinematic apparatus. The book examines screen practices in the United States in and around the 1930s, the period in which Hollywood cinema adopted the hegemonic form against which subsequent changes—as well as previous and concurrent divergences—are often measured. It shows how diverse uses of screens at that time shaped production, theatrical exhibition, and nontheatrical exhibition and put cinema into close conversation with early television.
Rogers is currently working on a third book project which revisits the concept of the cinematic frame and the practice of cinematic framing in light of contemporary uses of virtual reality.
Education
PhD, Cinema and Media Studies, University of Chicago
BA, Film Studies and Philosophy, Columbia University
Publications
Books
On the Screen: Displaying the Moving Image, 1926-1942. New York: Columbia University Press, 2019.
Cinematic Appeals: The Experience of New Movie Technologies. New York: Columbia University Press, 2013.
Journal Articles and Book Chapters
"'Taking the Plunge': The New Immersive Screens." In Screen Genealogies: From Optical Device to Environmental Medium, edited by Craig Buckley, Rüdiger Campe, and Francesco Casetti, 135-158. Amsterdam: Amsterdam University Press, 2019.
"Screen Practices and Hollywood Cinema in the 1930s." Screen 60, no. 2 (Summer 2019): 197-223.
"Die Konstruktion eines 'synchronen Feldes': Benjamin Schlangers Experimente mit der Gestaltung von Leinwänden und Kinosälen in den 1930er Jahren." Translated by Guido Kirsten. Montage AV 25, no. 2 (2016): 167-180.
"Scaling Down: Cinerama on Blu-ray." In Screens, edited by Dominique Chateau and José Moure, 82-96. Amsterdam: Amsterdam University Press, 2016.
"Classical Hollywood, 1928-1946: Special/Visual Effects." In Editing and Special/Visual Effects, edited by Kristen Whissel and Charlie Keil, 68-77. New Brunswick, NJ: Rutgers University Press, 2016.
"'You Don't So Much Watch It As Download It': Conceptualizations of Digital Spectatorship." Film History 24, no. 2 (2012): 221-234.
"'Smothered in Baked Alaska': The Anxious Appeal of Widescreen Cinema." Cinema Journal 51, no. 3 (Spring 2012): 74-96.
Recent Awards and Honors
Van Zelst Research Professorship, Northwestern University 2022-2023.
NEH Fellowship, National Endowment for the Humanities, 2022.
Clarence Simon Award for Outstanding Teaching and Mentoring in the School of Communication, Northwestern University, 2019.
ACLS Fellowship, 2016
Courses
Undergraduate
RTVF 220-0 Analyzing Media Texts

RTVF 312-1 History of Film I
RTVF 322-0 Melodrama
RTVF 341-0 Digital Cinema
RTVF 341-0 Special Effects
RTVF 398-0 Screens
Graduate
RTVF 412-0 Cultural History of Film
RTVF 413-0 Cultural History of New Media
RTVF 420-0 Film Theory and Criticism
RTVF 443-0 Screens

RTVF 501-0 Foundations of Screen Cultures