Robin R. Means Coleman
(she/her)
Vice President and Associate Provost for Diversity and Inclusion; Chief Diversity Officer; Ida B. Wells and Ferdinand Barnett Professor in Communication Studies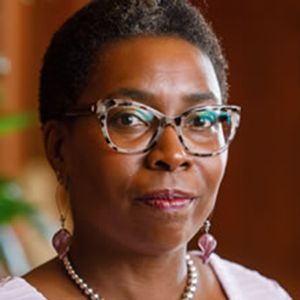 Dr. Robin R. Means Coleman is Vice President & Associate Provost for Institutional Diversity and Inclusion and Chief Diversity Officer, and the Ida B. Wells and Ferdinand Barnett Professor of Communication Studies at Northwestern University. An award-winning scholar, Dr. Coleman's work focuses on media studies and the cultural politics of Blackness. Dr. Coleman is the author of Horror Noire: A History of Black American Horror from the 1890s to Present, 2nd ed. (2023); Horror Noire: Blacks in American Horror Films from the 1890s to Present (2011) and African-American Viewers and the Black Situation Comedy: Situating Racial Humor (2000). She is co-author of The Black Guy Dies First: Black Horror from Fodder to Oscar (2023) and Intercultural Communication for Everyday Life (2014). She is the editor of Say It Loud! African American Audiences, Media, and Identity (2002) and co-editor of Fight the Power! The Spike Lee Reader (2008). She is also the author of a number of other academic and popular publications. Dr. Coleman is featured in, and co-executive produced, the critically acclaimed, award-winning documentary film Horror Noire.
Most recently, Dr. Coleman was a Fellow in the Institute for Educational Management at Harvard University. She earned a Certificate in Diversity and Inclusion from Cornell University. She is a graduate of the American Council on Education Leadership Academy, the University of California-Berkeley Executive Leadership Academy, and the National Intergroup Dialogue Institute. Dr. Coleman was a Fellow in the Big 10 Academic Alliance Academic Leadership Program. She was also a Fellow in the National Association of Diversity Officers in Higher Education (NADOHE) Standards of Professional Practice Institute.
Before coming to Northwestern University, Dr. Coleman was on the faculty at Texas A&M University, the University of Michigan, the University of Pittsburgh, and New York University. At Texas A&M University, she was the Vice President and Associate Provost for Diversity. At the University of Michigan, she served as the Associate Dean of Social Sciences in the Rackham Graduate School, as well as Chair of the Department of Communication Studies.
Education
BA, Chatham College
MA, University of Missouri
PhD, Bowling Green State University
Honors and Awards
Rondo Award 2020: Best Documentary for Horror Noire (film)
Online Film Critics Society 2020 Awards: Best Non-Theatrical Release for Horror Noire (film)
Film Pulse Achievement for 2020 Non-Theatrical Release for Horror Noire (film)
FEARnyc 2019 Trailblazer Award for Horror Noire (film)
Diverse Magazine Top 25 Women in Higher Education, 2021
Chatham University-Glass Ceiling Smasher, 2019
Minority Access National Role Model Award 2017